posted: March 11, 2009
Neko Case – Middle Cyclone
Middle Cyclone
Anti
CD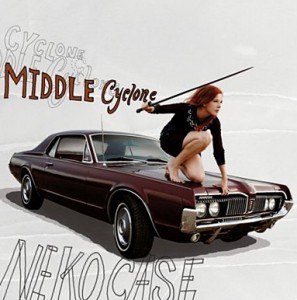 If you still haven't heard Neko Case, you're in for a treat. Like Lucinda Williams, Neko Case starts with country and folk and then springs into the clouds, making such genre distinctions irrelevant. While Williams often downplays her vocal talents with a gruff, worn rasp, Neko possesses an unusually powerful and expressive voice that will remind you of Patsy Cline and Loretta Lynn. Big, sweet and persuasive with a slight vibrato, her voice was built for late night listening or busting through the AM static while driving on a lonely old road in the middle of the night.
On her new album, Middle Cyclone, Case expands on the confidence she displayed on her last album, Fox Confessor Brings the Flood, along with an all-star band that includes M. Ward, Garth Hudson, Steve Berlin and Howe Gelb. Case's ability to sound romantic without being overly sentimental is one of Middle Cyclone's greatest strengths. While "Fever" and "Prison Girls" stray far from conventional Americana, Case's stunning vocals ground these excursions successfully. She does such a great job with Sparks' "Never Turn Your Back on Mother Earth" and Harry Nilsson's "Don't Forget Me" that they sound like original compositions.
Though none of the songs on Middle Cyclone move me quite as much as "Star Witness" from Fox Confessor, this record is much more consistent overall and that's what makes it a big winner. It's exciting to see Case follow this trajectory where she surpasses each subsequent release and the thirty plus minutes of frog and cricket sounds that close the album are a unique and gutsy exclamation point. Nice '67 Cougar on the cover, too.
–Marc Phillips