posted: May 8, 2011
Neil Young – Captured Live in Chicago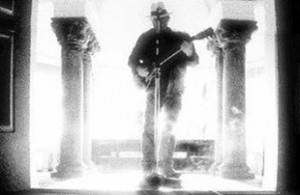 Floors vibrated, metal chairs rattled, and structural beams shook at the first of a two-night stand by Neil Young at the intimate Chicago Theatre in early May. Such was the level of tonal resonance, low-frequency extension, and decibel-emboldened tenacity summoned by the iconic artist on just a handful of guitars—two very familiar to longtime fans. Unaccompanied, Young seemed intent not to journey through the past but rearrange it—as well as confront the present via recent material that stands among his most vital.
Several years removed from a near-fatal brain aneurysm, Young has witnessed several close friends and associates pass away over the last two years, chief among them film producer/collaborator L.A. Johnson and close musical companion Ben Keith. Young is quoted as saying that, without Keith, he is no longer able to play 70% of his repertoire with a band. Perhaps that explains his decision to go it alone on 2010's superb Le Noise and on several recent outings. Yet the reasons probably also relate to Young's way of coming to terms with the personal losses and surrounding world. The Canadian native channeled frustration, mourning, and conflict through sound and verse throughout the hyper-focused 110-minute set, during which Young, in typical fashion, rarely spoke to the near-capacity crowd.
Roaming around a dimly lit stage in a white sports coat, jeans, and Panama-style hat, Young remains an introverted figure. He surveyed available instruments with cautious consideration, rubbing his fingers along the body of a grand piano before taking a seat and spying his pump organ as if it were a deity before climbing up a short row of stairs and launching into a meditative "After the Gold the Rush." Young's pensive motions made for understated drama. Yet they also came across as slightly exaggerated. The show's meticulous nature and serious mood were never in doubt. Young needn't have slowly wandered about like a pensive drifter to drive the points across.
Still, if further slowing the pace and engaging in spiritual communion with a cigar store Indian perched onstage served the enigmatic artist—upon entering the venue, at Young's request, patrons were informed to refrain from shooting photos even with cell phones— the introspective moments never derailed momentum. While no stranger to raucous fun and celebratory irony, on this evening, Young held fast to a severe presentation that underlined the sober themes in his songs. Tonight was no place for "Welfare Mothers," "Sedan Delivery," "Roll Another Number," or, thankfully, any of his well-meaning tunes about hybrid automobiles.
At the onset, the 65-year-old stamped standbys such as "My My, Hey Hey (Out of the Blue") and the country-tinged "Tell Me Why" with a more pronounced hesitation and susceptibility. He carefully balanced forlorn harmonica fills with restrained acoustic guitar passages, his lanky body a loose Jell-O mold of wobbling knees, swaying legs, and bobbling torso. For "Helpless," Young painted rural pictures with bucolic poetry and mellow chords. As blue-hued lighting glowed behind him, the gorgeous imagery both corresponded to the "blue, blue windows behind the stars" lyric and invoked Marc Chagall's "America Windows"—a masterpiece located less than a mile away at the Art Institute of Chicago. Young also performed the unreleased "You Never Call" unplugged, and in spite of a narrative that mentioned the Detroit Red Wings and In-N-Out Burger by name, steel-tinted textures and apparent allusions to Johnson and Keith lent comparable gravitas.
Weight—in the emotional, voluminous, and responsible senses of the term—guided Young's progression. The most spectacular moments arrived via electric guitar, his tool of choice. Akin to the treatments employed on Le Noise, his Old Black (Les Paul) and White Falcon (Gretsch) guitars were filtered through distortion effects and related pedals, yielding huge soundscapes that seemed to infinitely extend and seldom decay. Rhythms stacked upon one another, each swipe of Young's hand to the strings unleashing torrents of crackling thunder, rolling feedback, and booming resonance.
Heard amidst such sonic constructs, "Down By the River" wore an even deadlier mask, "Rumblin'" proved true to its name, "Ohio" recoiled with bitter disgust, and "Peaceful Valley Boulevard" flowed with a menacing fervor targeted at unforgivable ignorance. Similarly, despite its lively Spanish-flavored intro, "Love and War" conveyed foreboding feelings, the song's piercing truisms and horrors ringing out alongside guitar notes that hummed, moaned, and exploded. Young abruptly stopped and shifted tempos, adding to the material's edginess and upping dynamic contrast. In fine form, his hallmark soulfully quivering tenor voice warmly complemented several paeans to love ("Sign of Love," "I Believe In You") but refused to shy away from irritation at everything from environmental ruin to corrupt politics to distorted history to himself.
On the autobiographical "Hitchhiker," Young turned his never-sleeping rust loose, the subterranean guitar riffs corroded with terrifying noise, the tune marching on even as the singer injected percussive breaks into the violent arrangement. By the time Young concluded with the persuasive "Walk With Me," the dark clouds began to clear, and the frontman, as if finally purged if not entirely content, sought solace in friendship and faith.
–Bob Gendron