posted: June 17, 2011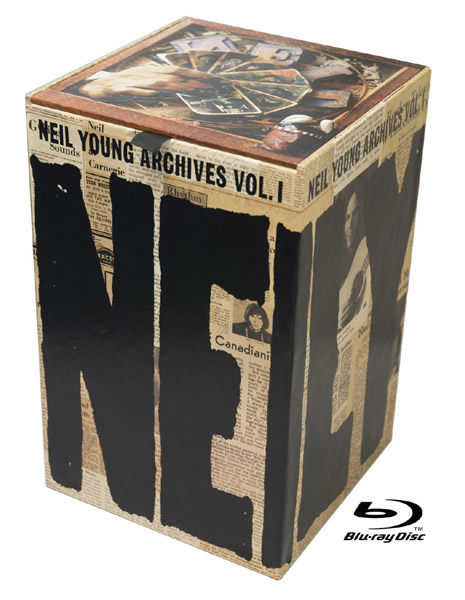 Neil Young's Archives Vol. I 10-disc multimedia box set is the stuff of dreams. Specifically made for the Blu-ray disc format (the compilation is also available on 10-disc DVD and 8-CD sets, respectively), it is the most groundbreaking music release in decades-an immersive intersection of sound, vision, and interactivity that will change how bands present their history and how fans experience art.
For years nothing more than a rumor that became legendary for the myriad delays caused by the absence of a suitable technology, the set reaffirms Young's brilliance, ambition, and imagination. Not there was ever any doubt. That the Canadian native possessed the foresight to commence this project in earnest nearly four decades ago, and then execute it with such intelligent design and loving enthusiasm, staggers the senses. And that's exactly what Archives Vol. I does from beginning to end.
The first of four planned chronological sets intended to document nearly every aspect of Young's peerless career, Archives Vol. I spans 1963-1972 and includes 128 songs (48 of which are previously unreleased), more than four dozen bonus tracks, the debut non-theatrical release of the 1973 film Journey Through the Past, and, most strikingly, mind-blowing 24-bit/192kHz stereo PCM sound remastered from the original master tapes. A giant box with a "secret stash" compartment, 236-page hardbound book, foldout poster, and custom keeper for the sleeved discs complete the impressive physical package. The ingenious manner in which the material is presented onscreen (and, by extension, on your stereo) is even better.
Almost everything is organized in a virtual file cabinet in which every song has its own folder. Click on the song title and a folder opens up, revealing every detail pertaining to the tune (musician credits, recording date, record label and catalog number (if applicable), and cover art) as well as a set of subfolders. While the latter vary according to the song, they hold a wealth of memorabilia, documents, and photos. Certain tracks also come with audio and/or video logs-bonus media that comprise live footage, radio interviews, concert banter, promotional spots, and television appearances.
If all that wasn't enough, each disc includes a timeline, a thoroughly engrossing pursuit that encourages user navigation and includes thumbtacks that, when clicked, open extra archival aural and video material. The timeline is also where all future BD Live downloads will appear. Only available on Blu-ray, Young intends on making additional content available for free as it is discovered and restored, meaning that Archives Vol. I could grow infinitely in scope. This potential is alone worth the investment in the advanced technology, and it seems Young is sincere in making good on the promise. Written Young biographies that speak to what happened in his life during the time period on each particular disc and assortment of other menu options, including an audio/video setup helper that ensures that televisions are properly displaying the 1920×1080 content, round out the menu choices.
In terms of exploring new avenues for presenting content, it seems nothing has been forgotten. Not even footage of Young perusing his own archives alongside photographer Joel Bernstein and producer L.A. Johnson. As he sifts through a seemingly endless stacks and spreads of photos, papers, and paraphernalia, Young's blunt comments and astute reflections serve as some of the most revealing matter in the box. Cleverly, the moments are all "hidden" as Easter Eggs amidst the menus. Other Easter Egg content is scattered amidst the song files, be it an unreleased take of "I Believe In You" with Young jingling sleigh bells or a jaunty alternative version of "When You Dance, I Can Really Love" that comes across as more raw (and country) than the original.
And it's the pairing of Young's incomparable music with corresponding historical records-original lyric manuscripts, never-before-seen photos, radio ad sheets, rare 45rpm single artwork, setlists, tape boxes, hand-drawn sketches, newspaper articles, concert and album reviews, advertisements, show programs-that makes Archives Vol. I. a journey that's like nothing else. The opportunity to explore, browse, and watch Young's amazing evolution-on this volume, we see him from his time with the clean-cut high-school band the Squires to his tenure in Buffalo Springfield before his subsequent stretch as an idiosyncratic solo artist, Crazy Horse associate, and Crosby, Stills, Nash & Young member-offers unparalleled insight and unlimited depth.
There are too many highlights to mention, too many surprises to list. Just as it should be: One of Archives' biggest achievements is the way it invites the user to peruse, loiter, and sample at their own leisure. Yes, this major creative excavation is meant to be savored, but it's difficult not to want to devour everything. Young and Johnson even provided a listening-only option where tracks play straight through as they would on a CD while a period home-playback mechanism (i.e., reel-to-reel tape deck or old phonograph) "plays" the tune and doubles as a screen saver. Witty.
Yet Archives Vol. I is as much a visual as a sonic undertaking. Despite the early periods covered, illuminating video footage abounds. One of the set's priceless entries shows Young strolling into a Hollywood record store, finding a CSNY bootleg LP, confronting the clerk, and literally taking the album out of the shop. Viewers are also treated to watching CSNY perform "Down By the River" on ABC's The Music Scene in 1969; Young strolling unannounced into a Greenwich Village coffeehouse to play a few songs; CSNY singing "Only Love Can Break Your Heart" onstage in June 1970, with Stephen Stills plucking a double bass; Young working with the London Symphony Orchestra on "A Man Needs a Maid"; Harvest recording sessions inside the vocalist's Broken Arrow Ranch barn, complete with musicians perched on hay bales; Young observing the printing of his album covers at a record-pressing plant; and more.
Using the various "support" elements (radio interviews, timeline, etc.) as reference points, Young's music assumes greater relevance and gains in stature. Ideas behind songs and arrangements, as well as reasons and regrets, unfold with narrative clarity and frank humor. Archives Vol. I removes much of the opaque divide between Young and his audience, allowing for unmatched transparency and enhanced perspective. The inspiration behind "Old Man," decisions behind the flawed remixing of Young's solo debut, motives for the singer's move to Topanga Canyon (and later, Broken Arrow Ranch), initial ideas for what became Harvest, and feelings on subjects ranging from everything to Buffalo Springfield's breakup to songwriting to his own image are all divulged.
"It's interesting how I contradict myself over time," Young observes at one point, the statement indicative of the set's enormous span and informative nature. From the start, it's clear that Archives was as revealing to Young as it is for the fan. And it's the singer's hands-on involvement, whip-smart commentary, and willingness to share so many riches and memories that remove ego from the equation. What could've been a monumental celebration of self is instead a fascinating portrait of a pioneering artist that's forever evaded labels, rules, and convention. Even at 10 discs, Archives Vol. I leaves you wanting more-a testament to both Young's superior body of work (in addition to the entirety of Live at the Fillmore East and Live at Massey Hall releases, nearly every song from Everybody Knows This Is Nowhere, After the Goldrush, and Harvest are here) and the project's spare-no-time-or-money-expenses quality.
And nowhere is that attribute more manifest than in the sonics. The warmth, richness, fullness, airiness, separation, body, extension, detail, intimacy, tonality, depth, dimensionality, clarity, and sheer life-like presence that these recordings convey defy expectation and transcend limitation. At every step, whether on 1965′s "The Sultan" or a wowing, previously unheard 1971 version of "Dance Dance Dance" with Graham Nash, the sound is room-filling, balanced, natural, lively, and utterly engaging. Digital has never been better.
Neither has any box set in recent memory. In Archives, Young and company have gone beyond their realm. They've created a platform that other artists can use to assemble their own music-based multimedia scrapbook. Think of what Pearl Jam, Radiohead, and Bob Dylan could do with this format! Until that happens, Young has established a precedent that may be impossible to top, and he's not yet even halfway through.
-Bob Gendron
You can preorder this box set at Music Direct here:
http://www.musicdirect.com/product/85325
–Bob Gendron