posted: January 24, 2012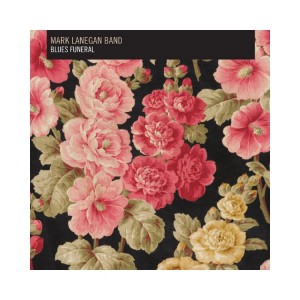 "If tears were liquor/I would've drunk myself to death," confesses a troubled Mark Lanegan on the allegorical "St. Louis Elegy," a haunting organ-laced ballad that stands in as the second cousin to the Animals' "House of the Rising Sun" and reinforces the afflicted moods coursing through Blues Funeral. Spectacularly diverse and consistently impressive, the vocalist's first studio album in more than seven years arrives after several rewarding collaborations.
Three duet efforts with Isobel Campbell, a stint with the Queens of the Stone Age, appearances on sets by Marianne Faithfull and Soulsavers, and a go-around as one half of the Gutter Twins gave the ex-Screaming Trees crooner plenty of time to dwell on original material. And akin to 2004's Bubblegum, Blues Funeral blows open the primarily acoustic roots-based approach taken on his first five solo records. What hasn't changed is Lanegan's impactive voice—impregnated with back-of-throat huskiness, nicotine-stained depth, lived-in wisdom, and liquor-soaked ache. It's an intense instrument—a soul-penetrating stare wielded with careful precision as it wades into dark landscapes scarred with mental disease, corrosive relationships, sad disgrace, enslaving addictions, and unhealthy fixations.
While of limited range, Lanegan switches between his shovel-scraping baritone and mellower falsetto capacities. The former digs at unrequited desires while the latter works to convey undying dedication. Measured, dusky, and unhurried, the daylight-allergic frontman's voice alternately palpitates with claustrophobic presence and tortured mysticism. This is a man for who gray cedes to black, the hangman constantly lurks, and bullets and guns qualify as appealing. Navigating emotions hair-triggered by blossoming chaos, ruined loves, and deleterious circumstances, Lanegan surfs atop brimming tension and sweeping crescendos as well as any contemporary singer. He inhales words into his lungs before exhaling with unforced anguish. A twisted spirituality informs his phrasing and timbre, helping turn deliverance pleas into requiems of Biblical proportions. Lanegan makes feeling bad sound incredibly good, inviting listeners into clandestine worlds in which temporary visits are preferable to taking up residence.
Obsessive longing recurs, and never more so than on "The Gravedigger's Song." Metronomic jungle rumbling and blindsiding guitar riffs coincide with smothering vocals and a verse delivered in seductive, low-register French—the move underscoring Lanegan's smitten condition and poetic wanderlust. On the electronically textured "Harborview Hospital," he's removed from a beautiful union and joyous celebration spotted in the near distance and, unable to free himself from a paralyzed state, asks a sister of mercy, "Are they supposed to be as sick as you and me?" For Lanegan, desolation isn't a curable emotion or cause for shame; like it is for Kirsten Dunst's character in Lars von Trier's Melancholia, it's an ailment that must be tolerated. Salvation, if all possible for this burdened Saturday's child, comes from blind faith, blunt confessions, and imaginative atmospherics.
Whether via the tangled folk psychedelia of the balladic "Deep Black Vanishing Train" or noisy R&B throttle of the aptly titled "Quiver Syndrome," complete with doo-wop backing vocals, Lanegan couches shivers, moans, and grumbles amidst mercurial musical combinations. He largely skirts conventional rock structures, daring instead to stir within manipulated trip-hop backdrops ("Phantasmagoria Blues") and avant-garde chamber-pop melodies ("Leviathan"). On the synth-pop "Ode to Sad Disco," Lanegan even channels late-80s Depeche Mode and Leonard Cohen. Pairing a drum-machine track with a reverb-spiked country guitar line, he creates a dance number tailored for the coat-check room in Satan's discotheque
–Bob Gendron