posted: March 18, 2013
Low
The Invisible Way
Sub Pop
LP, CD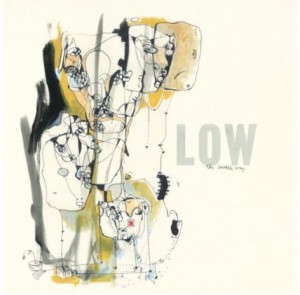 There's mood music, and then there's whatever it is Low is currently doing.
Now on its tenth album, the Duluth, Minn., trio remains perhaps the only band around about which its fans could plausibly worry that the act's songs could disappear into nothingness. Not, of course, that the collective would call quits—but simply that Low's grace with mining the quiet and perfecting the art of patience could lead Low down a path where its songs are barely a murmur.
Of course, there's plenty of beauty to be had in such precise restraint. Yet with Low, there's often just as much disquiet. "The truth can hide, sometimes right behind the sorrow," sing Alan Sparhawk and Mimi Parker on "Waiting," and then they go looking for it "behind the smile." Meanwhile, a melody is gradually revealed a by a loving, whispering guitar, as if there's someone it doesn't want to disturb.
Sparhawk and Parker's overlaying vocals have always conveyed unrest; they're working in concert, yes, but they harmonize blankly, singing in much the same way two pallbearers walk in unison. What's different here is the way each instrument is intimately isolated. Produced by Wilco's Jeff Tweedy, The Invisible Way doesn't sound stark so much as simply forlorn. For example, the few minor-key piano notes of "To Our Knees" that give way to delicately plucked guitar strings, the wood-board patter of "Mother" or the rhythmic, twilight brush strokes of "Amethyst."
It's not always comforting, but there is plenty of room—and space in the songs—for reflection. "Time, it pulls out your eyes," Sparhawk sings on "Amethyst," as much of The Invisible Way seems to steadily march toward one's later years in life. When there is an electric guitar, it's striking to the point of horrifying, such as the all-enveloping doom that leaves feedback skid marks all over the song's coda. "Happy birthday" is the message repeated throughout the song's final moments, but the sentiment isn't one of Hallmark variety.
Similarly, "Plastic Cup" starts as a mediation on aging—a narration that goes from partying with childhood friends to leaving urine samples for doctors—and that's just in the first verse of the first song on the album. With an acoustic guitar built for a hospice waiting room, the song follows the cup holding the urine sample until it's buried in a trash heap and discovered centuries later by historians. How's that for a wake-up call?
Yet Low makes such helplessness sound glorious. Parker takes the lead on "Just Make it Stop," where defeatism transitions into determination with each passing harmony. It may not all end up OK, but Low isn't ready to surrender to the calm, either.
–Todd Martens