posted: November 22, 2011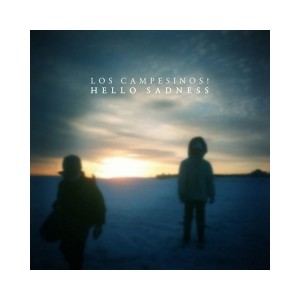 Gareth Campesinos!, frontman for the sprawling Welsh collective whose members, like those of the Ramones, all share a last name even if they don't share familial blood, has always been infatuated with the way the human form reveals emotional wounds accrued through the years. "I cannot emphasize enough that my body is a badly designed poorly put together vessel harboring these diminishing so-called vital organs," he sang on the title track to 2008′s We Are Beautiful, We Are Doomed. "Hope my heart goes first. I HOPE MY HEART GOES FIRST!"
Now, years later, the vocalist's poor heart is still pumping away despite his contrary wishes. Witness the album-opening "By Your Hand," a buoyant indie-pop number on which he invites a lover to take his miserable life, joining his bandmates in a group singalong that could have been choreographed by Glee producer Ryan Murphy. "By your hand is the only end I foresee," they wail. Elsewhere, Gareth examines the emotional damage left by a rocky relationship on "Life Is a Long Time," singing, "There's cartography in every scar" atop jangly guitar and the interwoven vocals of Ellen and the now-departed Harriet Campesinos! Then, on the epic title track that builds to a near-orgasmic crescendo of strings, horns, and chugging guitars, he tries desperately to spackle over the ever-expanding cracks in his busted heart.
While past albums remained relatively merry affairs—the celebratory musical backdrop playing counterpoint to the band's oft-dour frontman—here, Gareth occasionally drags his mates into the morass. "To Tundra," a song every bit as chilly and barren as its title suggests, moves as deliberately as an ice floe. The woozy "Hate For the Island" is similarly ethereal, a funeral ode delivered amidst a wash of ghostly guitar. The frontman's anger ("I've a whole lot of hate for the island") can't quite overcome the obvious grief brought on by his having lost a lover that now rests beneath six feet of sand. While these moments initially feel like a welcome change of pace, the slower tempos don't really suit a band that caps its moniker with a well-deserved exclamation point.
Fortunately, the crew bounces back for "Baby I Got The Death Rattle," a tune that gradually evolves from introspective to celebratory before closing with a full-on group chorus that sounds lifted from an off-Broadway musical. Of course, the song's title is inspired by a medical term describing the phlegm-y sound produced by someone nearing death, and the lyrics reference headstones and digging one's own grave. While this might seem morbid coming from some bands, it's a fitting turn for a group that's made a career mining joy from life's endless stream of disappointments.
–Andy Downing