posted: September 25, 2010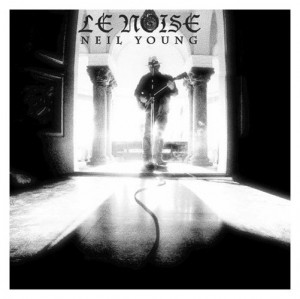 Neil Young's unparalleled legacy is defined in part by surprising decisions and eclectic albums. The iconoclastic artist is one of the very few musicians that genuinely does what he wants when he wants, consequences and public reaction be damned. Such sudden and odd choices have proven both beneficial (2006's institutionally scathing Living With War, 1982's ahead-of-the-times Trans) and disastrous (2009's hit-and-run Fork In the Road, all of his feature film projects). And while Young thrives on unexpectedness, the amount of people who truly believed that the singer/guitarist could deliver a pioneering (and great) album at this stage in his career could be counted on one hand.
Featuring Young just playing guitar and singing, Le Noise is a record that changes how music can be presented and heard. Originally intended as an acoustic solo effort, it evolved into a grand, epic-sounding work made in a style that Young has dubbed "folk-metal" due to producer Daniel Lanois' stunning sonic treatments. Recorded live with no overdubs and no outside band assistance at Lanois' Silver Lake home, the album is like nothing else in Young's catalog—or that of contemporary music.
How Lanois got such terrific sounds, and what he did with the guitar, is part of the genius. He initially outfitted an acoustic model with a pickup that imitates the human voice and loops it through the song, manipulated the two low strings to give them heavier bass presence, and plugged it into a tremolo amplifier. A hollow-body electric guitar, used on six of the eight tunes, got fed through two amplifiers—one clean and one dirtied with tremolo, the dynamic contrasts paralleling Le Noise's striking juxtapositions of intimacy and enormity, calm and turbulence.
Chords are augmented, magnified, echoed, stretched, thickened, stripped; arrangements unpredictably build, decay, and disintegrate, with some of the random pieces then reassembling into different shapes that collect like iron shavings on a moving magnet. Individual notes break off from parent structures, occasionally taking the form of jagged chards, other times doubling as the clink of a piano or stop of an organ. Riffs seem as if they've been filtered through a multitude of distortion devices, choral pedals, sustain gadgets, and delay boxes. An entrenched sense of melody and rhythm allows the songs to hold their shape, and Young's singing is as clear, attentive, and passionate as it's been in years. Straightforward and direct, the songwriting is equally superb.
Dealing with tremendous loss—two of Young's longtime collaborators, L.A. Johnson and Ben Keith, passed away within the past year, and Lanois almost died in a motorcycle crash last June—Young addresses mourning, love, politics, conflict, redemption, and the environment (all hallmark themes) in penetratingly honest lyrics that appear less interested in concrete answers than arriving at certain understanding and finding peace of mind. Several songs take on a decidedly autobiographical bent.
"The Hitchhiker" chronicles Young's life journey, touching on his geographical bases, drug use phases, and marriages before concluding with the 64-year-old hauntingly confessing "I don't know how I'm standing here/Living in my life." On the affecting hymn "Love and War," one of two acoustic tracks, Young again invokes mistakes of his past while punching the song through with forthright emotion and terrifying sincerity. It's a concise gem, the simple words teeming with poignant meaning and heartbreaking tenderness. "I said a lot of things that I can't take back/But I don't really know if I want to," Young contemplates, his intimate voice aching with a chilling mix of soulful fear and deferred relief. Pain and trepidation are also present on "Peaceful Valley Boulevard," a socially conscious reflection that the singer delivers with lullaby softness. Asking a host of refined questions and making salient observations, the song distills many of Young's longtime favorite subjects into a quiet anthem for the ages that ends with a stark scenario: "A child was born and wondered why."
On its own, Young's material would prove engaging if experienced in normal folk settings. Yet it's the new language of Lanois' rich soundscapes that elevate it to thrilling levels. Rhythmic blocks reverberate as if emanating from a massive hall located in some enormous European palace. Young strums, swipes, and strikes at guitar strings that snap, crackle, moan, howl, hiss, and rumble. Provided enhanced definition and dimension, the noises waft and carry, disappear and reappear. Covering a vast tonal spectrum, the music often feels like a series of alternately choppy and even waves, ebbing and flowing, monumental in size and impression. And so the ragged glory bite of the saw-toothed guitar patterns during "It's An Angry World" and oncoming thunder of the chunky chords on "Walk With Me" sound titanic—all the better to share space with Young's booming, from-the-heavens vocals. What an album.
Reprise's 180g LP possesses depth and width that defy limits. The louder the record is played, the more extraordinary Young and Lanois' work becomes. The lifelike nature of the acoustic properties, myriad frequencies, and surreal tonalities is eclipsed only by the imaging. It often seems that Young—just as he's pictured on the album's cover—is that short of a distance away from the speakers.
–Bob Gendron