posted: November 14, 2011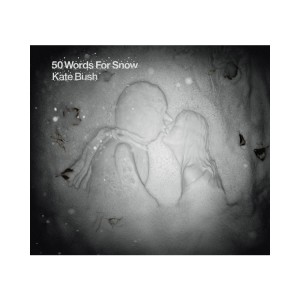 As Kate Bush's recording output has gotten more and more sparse—50 Words for Snow is only her second album of new material since 1993—so, too, have her arrangements gradually calmed. An artisan of the piano, Bush was always more chamber than concert hall. But 50 Words for Snow begs the listener closer, its hushed quality a cleverly crafted comfort to disguise the turmoil underneath.
The album title only hints at the level of coldness and emptiness explored throughout this seven-track, 65-minute set. "Lake Tahoe," for instance, becomes increasingly gripping as one unravels the story, and it will be downright frightening to animal lovers. At 11 minutes, the song could use some trimming—Bush's airy piano and choir voices largely frame the tale—yet there's a dead body, and an aging dog that misses its deceased owner. "Here's my lap," Bush sings, channeling the dreams of a hound, "that's where you lay your head."
Such an attention to detail is what makes 50 Words for Snow a remarkable albeit potentially difficult listen. Few songwriters, of course, posses the lyrical gift that can put a decomposing body in a lake and, minutes later, wring tears from thoughts of a lonely pet. On 50 Words for Snow, Bush splits the difference between such stark realism and the odder, more otherworldly thoughts that mark much of her 80s-era work.
The metaphor in "Snowflake" seems simple enough, but knowing that a bulk of the vocals are handled by Bush's young son, Albert McIntosh, adds a layer of bizarreness. The teenager is billed as lead vocalist, and Bush is resigned to the chorus. Without reading the credits, one would think Bush is playing a character. "My broken heart, my fabulous dances," presumably sings the teenager, turning the no-two-snowflakes-are-alike cliché into a dissertation on fading childhood. Some of Bush's old lyrical oddness returns on "Wild Man," which many longtime fans have excitedly noted, represents her revisiting of the abnormal. The song appears to be about a hunted Yeti. But such a diversion into the mystical isn't nearly as bracing as when Bush touches on very real human emotions. Still, her playfully skittering vocal whisper—and deranged, Cee-Lo-like choirs—ultimately redeems the song.
More interesting, however, are the final two tracks. The title cut does indeed offers 50 words and phrases inspired by snow, with an assist from author/humorist Stephen Fry. But they may as well be 50 words for tragedy and gloominess: "avalanche," "robber's veil," and "bad for trains" among them, all delivered while soulful backing vocalists taunt him on.
The Elton John duet "Snowed in At Wheeler Street," however, is heartbreak at its most haunting. London smog, the terrorist attacks of Sept. 11, 2001, and burning Rome are among the images that reverberate around a buzzing, horror-soundtrack keyboard. "Have we been in love forever?" Bush asks, a narrator unsure of herself, her partner, and her feelings toward nostalgia. In such moments, the languid arrangements seem to come to a halt. After all, the answer to such a question is a deeper look into the abyss than anything involving an Abominable Snowman
–Todd Martens