posted: July 15, 2015
Joe Lovano & Dave Douglas Sound Prints
Live at Monterey Jazz Festival
Blue Note,
CD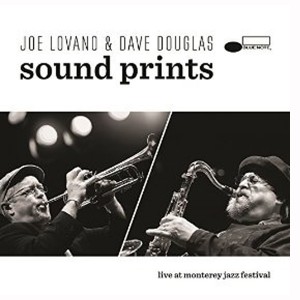 It's a matter of buoyancy. When jazz improvisers are really, really swinging, all the ensemble action seems to float. Once it's in play, it can work in innumerable ways. Sometimes musicians bear down and deliver expressionistic ardor. Sometimes they have their most feathery of maneuvers lifted by the collective flutter.
Both tacks were set in motion when Joe Lovano and Dave Douglas' Sound Prints hit the Monterey Jazz Festival on 2013's last day of summer. With a roiling rhythm section in place and a string of live shows under their belt, their zealous chatter speaks in tongues. Both the saxophonist and trumpeter teem with eloquence here, and for all the creative friction, everything gels as part of a perpetually simmering forward glide.
Take a second to absorb the opening of "Destination Unknown," one of two Wayne Shorter pieces in this six-song program. The iconic saxophonist remains regarded for the sleight-of-hand tricks he scripts into his tunes, and though the band blows declarative, it almost appears like they're sneaking up into the tune to goose all involved towards glory. In a flash, the midtempo reflection moves into a smooth lurch and the horns are paying homage to the coordinated acrobatics of the Blue Angels jet squad as much as they are Shorter and his looping forays with Miles Davis.
Aesthetically, the Lovano/Douglas connection is inspired. The musicians are a decade apart in age, with the 62-year old saxophonist ranking as the elder. Both built careers on the fruits of artistic breadth, and each personalized his own take on freebop. Such lingo dominates Sound Prints, a rambling bluster coinciding with sharp phrases while swing tempos expand and contract with enough ease to keep everything hopping. Coercive counterpoint dominates much of the action, and while the band's overt nod to Shorter stretches from the group name (a play on his classic "Footprints") to his compositional contributions ("To Sail Beyond The Sunset" serves as the second Shorter tune), a dash of Ornette Coleman's open-ended exclamation bounces around, too. By the time "Power Ranger" concludes, we've heard a deep confluence of both sources.
The rhythm section functions as the epitome of creative turbulence. Drummer Joey Baron, pianist Lawrence Fields, and bassist Linda Oh sustain the kind of collective splash that fires each measure of the music. Baron, one of the most expressive drummers around, leads the way. His vehemence is limned with agility, and it propels the music, providing plenty of uplift. On "Sprint," he gives his mates ample spring to go sailing towards a place where new improv episodes can be instantly concocted and form can be manipulated with a simple collective impulse.
–Jim Macnie