posted: April 14, 2009
Jane's Addiction: A Cabinet of Curiosities
April 21, 2009
Rhino
3CD's/1 DVD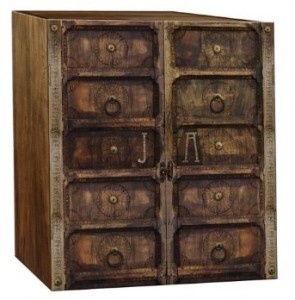 The timing behind the release of the new limited-edition Jane's Addiction's box set, A Cabinet of Curiosities, couldn't be more obvious. Reunited again, the band is preparing to head out on a summer tour with Nine Inch Nails that culminates with a headlining spot at Chicago's Lollapalooza festival. Not only is Jane's returning to the live musical celebration that singer Perry Farrell devised in 1991, it's doing so with original bassist Eric Avery, who will be touring with the band for the first time since the inaugural Lollapalooza. It seems the members, particularly Farrell and guitarist Dave Navarro, have yet again realized that their side projects pale in comparison to alt-rock nostalgia. And unlike 2003, this time fans won't need to sit through any painful new material.
Instead, they'll hear much of what's presented on this triple-CD/single-DVD rarities set-yes, true to the collection's name, the discs are housed in a wooden shrine packed with concert memorabilia, ticket stubs, and other trinkets-that exclusively focuses on the group's original incarnation, suggesting that everything else doesn't matter. And it doesn't. Ideal for curious listeners coming to Jane's for the first time but primarily aimed at diehards, the 43-song collection features 30 unreleased tracks in the form of demos, live cuts, covers, and scattered B-sides. A DVD compiles assorted music videos and a short European MTV performance. But it's the early demos and a 1990 concert from Los Angeles that prove revelatory.
As made evident by the chronologically ordered set, by fall 1987, Jane's had already recorded rough (and in many cases, surprisingly complete) versions of songs that comprised a majority of its first two albums as well as several demos of tunes that would land on its breakthrough third record, Ritual de lo Habitual. The raw recordings further expose the genuine purity of the quartet's innovative sound and juxtaposed moodiness. Favorites such as "Jane Says,"  "Had a Dad," "Classic Girl," "Ocean Size," and "Three Days" brim with the dark exoticism, free-spirit soulfulness, hard-rock explosiveness, gothic psychedelia, and avant-garde pop that make the band's music and ideas so pioneering. This is the sound of both the touristy and seedy sides of Los Angeles, a collision best experienced through the context of the live takes and practice sessions included here.
Similarly, an invigorating concert from a three-night stand at the Hollywood Palladium captures the group at its peak. Months away from imploding, Farrell and company tap into the mystic vibes of a hometown crowd and burgeoning album that presaged a coming "alt-rock" movement that ultimately took hold as Jane's drifted apart. Such glimpses into history make A Cabinet of Curiosities worthwhile for the uninitiated and enthusiast even if its price tag and unconventional approach may not be for everyone-just like Jane's itself.
–Bob Gendron