posted: February 16, 2010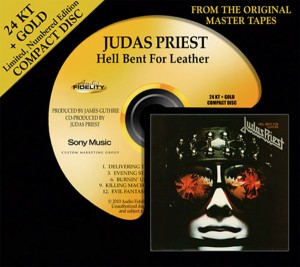 It's about time we got something remastered that really kicks ass.
I love 60′s and early 70′s rock classics as much as anyone, and yes I've got six different pressings of Pink Floyd's Dark Side of the Moon but I think we need a wider range of great rock records with sound quality to match. Kudos to Audio Fidelity and Steve Hoffman for doing a bone crushing job on this Judas Priest classic.
Arguably, one of Priest's most powerful albums (titled Killing Machine in the UK), Hell Bent For Leatherfeatures four of the original members of the band, Rob Halford as lead vocalist, bassist Ian Hill and the power lead guitar duo of K.K. Downing and Glenn Tipton.
As I just happened to have a very early pressing of the LP (yes, I went and bought it the day it was released) on hand for comparison, the record is somewhat thin in comparison to the CD, but has a tiny bit more air on top. However the AF release is an overall winner, because there is a lot less compression and muddiness to the midrange on the originals, and I'll give up some air to hear both of those lead guitars blazing distinctly in the remaster. As an added bonus, Hill's bass line has more prominence and Halford's screams have a wider range.
So, at your next audiophile listening party when everyone is talking about their new favorite female vocalist, sneak this one in the CD player, and turn it up. I had the big blue meters on my McIntosh MC 1.2 KW's pinned on this one!
I can only hope that Audio Fidelity will produce British Steel and Screaming For Vengeance next!
–jeff dorgay