posted: May 11, 2009
Green Day's Latest
21st Century Breakdown
WB/Reprise
CD, LP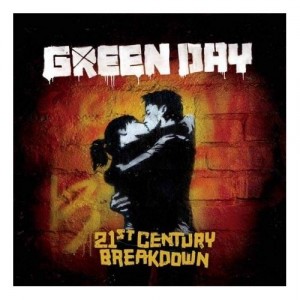 I suspect some of the same fans that accused Green Day of selling out when they signed to Reprise for their major label debut, Dookie, are going to be really pissed when they hear  21st Century Breakdown.  This record definitely shows some restraint from Billie Joe Armstrong and company; if you aren't paying close attention, you might mistake the beginning of the title track for an outtake from the new Fountains of Wayne CD.
Though the record starts out slow, about half way through track four, "Viva La Gloria", things pick up steam and rock in the style you've become accustomed to from Green Day.  You'll either appreciate the shift in their presentation with the layered (dare I say it, ballad-like) vocals and synthesizer riffs or throw your arms up in disgust.  Either way, you can't deny that they've made a great sounding record, with more stylistic depth than past efforts. The more I listen to 21′st Century Breakdown, the more I like it; these guys are much better musicians than a lot of people gave them credit for.
Other than slightly overusing the distant radio station effect on a few tracks, 21st Century Breakdown is a tightly produced effort from start to finish and reminds me of Metallica's Black Album; many hated it, but it cemented Metallica's position in the music world and expanded their fan base.  I hope 21st Century Breakdown does the same for Green Day.
Vinyl lovers note, while the CD will be available May 15, the LP version (2 record set) is not going to be available until June 16.
–Jeff Dorgay