posted: September 1, 2011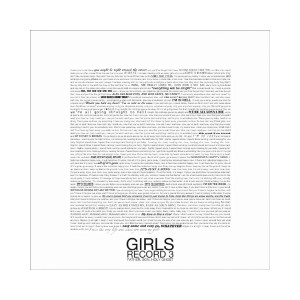 There's a moment near the close of "Vomit," the lead single off Girls' excellent new sophomore album Father, Son, Holy Ghost, where waifish frontman Christopher Owens, buoyed by a gospel choir and coffee-rich strains of soul organ, repeats the starry-eyed phrase "come into my heart." Ostensibly the singer is delivering the message to a would-be lover—after all, the band's 2009 debut hinged on Owens' ability to spin heartache into lo-fi, psych-pop gold—but this time around his words come across as a universal invitation.
In interviews, the frontman never shies from his complex past (Owens was born into the Children of God cult, escaping to Amarillo, Texas, when he was 16). But the subject surfaces here in surprisingly direct ways. The weary "My Ma," for one, sounds like it could have been written after the singer stumbled alone into the hot Texas sun for the first time. "I'm so lost out here," he laments atop bluesy organ and spectral rays of guitar, "I'm looking for meaning in my life, and you, my ma."
Elsewhere, he equates his search for love with a desire to reclaim the sense of comfort he once felt in his mother's arms (the galloping surf-rock of "Honey Bunny"), struggles with drug addiction (the Renaissance Faire pluck of "Just a Song," a tune whose "keep me up/keep me down" refrain explicitly references self-medicating to maintain emotional balance), and blasts through a deceptively upbeat love song ("Magic") that's as heartwarming as the Hall & Oates number that enlivens the otherwise forgettable 500 Days of Summer.
Of course, this being Owens, heartache remains something of a constant. On the shuffling garage-rock bruiser "Alex," the singer pledges his unrequited love to another in a series of verses that turn the song into a musical version of that scene in Louie where comedian Louis C.K. unburdens his soul to a longtime crush, knowing full well she'll never feel the same about him. "Love, Like a River," a retro slice of Stax-worthy soul, finds Owens trying to hold tight to a girl who's no easier to grasp onto than smoke ("No man can ever keep that girl from moving on," he croons wearily). Even "Saying I Love You," which opens like a straightforward 1960s romancer, quickly pivots toward depression.
Things grow even darker on "Die," a riff-heavy monster that pairs a drugged-out, thundering guitar squall with Owens' most hopelessly despondent lyrics to date ("We're all going straight to hell tonight," he howls). But even a quick glimpse at the album title serves as a reminder that redemption is near at hand, and eventually arrives in the form of the winding, eight-minute "Forgiveness." The latter is a sprawling, Pink Floyd-like epic the singer penned after coming down from a particularly memorable acid trip. While jarringly simple in concept—the song suggests that forgiveness is key to living a fulfilled life—Owens' words touch on a range of universal themes: sin, redemption, enlightenment, religion, self-discovery, and even death.
"Nobody's gonna find any answers if you're looking in the dark," he sings as cautious acoustic guitars encircle him like smoke rings. This is what illumination sounds like.
–Andy Downing