posted: May 18, 2009
Eminem's new release
Relapse
Aftermath/Interscope
CD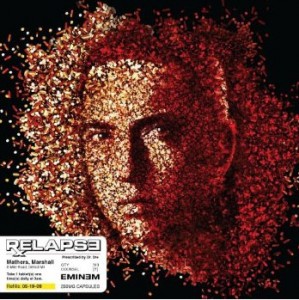 One of my favorite rappers, ICE-T used to say "If you're white, you can't be down" and on many levels, I still agree with that statement.  Eminem has probably come the closest to being down since the Beastie Boys, but his latest effort, Relapse, is a chore to listen to. The problem with this record is that I've heard it all before, dozens of times and there's just nothing new to warrant parting with your cold hard cash for.
It starts out with Em having a bad dream about getting out of rehab (or perhaps an AA meeting from Hell) and being confronted by an evil character questioning whether he's cured and tells him to "just take a drink" if confronted with too much temptation.  Then the alarm rings, he wakes up and the record begins.  It's pretty much all downhill from here.
The rest of Relapse is about drugs, drinking and rape (men and women).  Hmmm.
If Eminem had even a shred of a sense of humor or something interesting going on with the music, I could still give him a shout out, but I think this record should be called Recycled; these beats are at least a decade old. I don't expect Eminem to release a collection of hymns in the near future, but I do think he needs some (more) therapy.
–Jeff Dorgay