posted: May 30, 2009
Elvis Costello's Bluegrass Album, Sort of…
Secret, Profane & Sugarcane
Hear Music
CD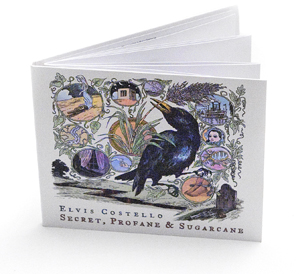 Elvis Costello is The Highlander of the New Wave era; he's the last one standing.  While a few remaining new-wavers are touring sporadically, performing the songs that made them famous, most have broken up and fallen into oblivion while Costello continues to create new work.  Some has been brilliant, some  confusing and some of it downright quirky, yet Costello keeps moving in different directions.
The current record, Secret, Profane & Sugarcane finds Costello back on a roadtrip, far away from his Attractions/Imposters roots.  Those referring to this disc as "the bluegrass album", are selling Costello short.  Who would have thought that the guy that gave us "Accidents Will Happen" would be writing songs with Loretta Lynn one day?  That's the mark of true musical genius; Costello captures the essence of the singer/songwriter/Americana thing better than anything that comes to mind recently. Long-time fans will notice that "Complicated Shadows" returns from All This Useless Beauty for a country remake.
Produced by T-Bone Burnett, who also plays on most tracks, Costello presents this music in a way that benefits from his diverse musical experience.  And if you think that married life has taken away his edge, a closer listen to "I Felt the Chill Before the Winter Came" and "I Dreamed of My Old Lover"  hints that he's still got that other girl in his head.
There's conflicting information on the vinyl release, but I'm hoping Costello will follow up with an LP version, as he did with his last few discs, because Secret, Profane & Sugarcane sounds great.  This is a record that the audio fussies will enjoy even in CD form, with a big, round, warm sound overall.  Barely a year since his last release, Momofuku, which was a more "traditional" album, Costello is chasing down another path. No, this isn't This Year's Model, but it's way more interesting than Robert Plant's Raising Sand.  Get on the bus.
–Jeff Dorgay