posted: November 24, 2009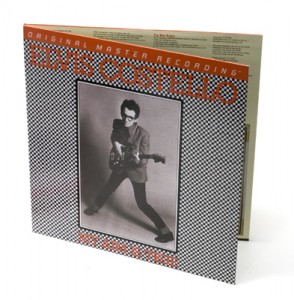 Mobile Fidelity has had fans clamoring for the first three Elvis Costello records since they announced it a few months ago. The audiophile message boards were awash with rumors; would they actually be released? Would they be any good? Would they get the actual original master tapes?
The answers are yes, yes and yes.
If you love Elvis Costello, this record will not only bring back great memories, but you'll be hearing the record like you've never heard it before. While many acknowledge the UK "Porky" pressing to be the definitive copy of this record on LP, (and all of the CD versions sound harsh and compressed) the MoFi version has both bass and treble extension, while cleaning up the midrange considerably too. You can finally hear everyone playing in this band and the weight to the overall sound that was lacking in all of my original LP's.
Considering that My Aim Is True was made for a total cost of 1000 pounds, it's a true testament to analog in general and the mastering abilities of MoFi's Shawn Britton.
The next two titles in the EC catalog, This Years Model and Armed Forces (my personal favorite) are listed as "TBD" in the Music Direct catalog, partially because RTI is backed up with orders for new vinyl. Let's all hope that they sound as good as My Aim Is True, and hopefully we can get them in time for Christmas!
–Jeff Dorgay