posted: April 5, 2009
Duff McKagan's Latest Will Cure What Ails You
Sick
Century Media
CD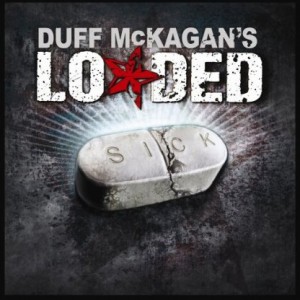 Tuesday, Duff McKagen's latest project Loaded hits the shelves with their new release, Sick.
For those of you not completely familiar with this member of Seattle rock royalty (as well asGNR and Velvet Revolver), Loaded is what McKagen does when he's not on tour with Velvet Revolver, writing about economics for Playboy.com or raising his two kids. The band features McKagen moving up front and playing guitar on this record, showcasing more of his vocal abilities as well.
Though a few have already criticized McKagen for staying too close to his GNR roots, I'm hearing a lot more Iggy Pop in this record than GNR and I like it.  The record starts with the title track "Sick" that has a major Raw Power groove and blasts with a wall of distorted guitars that had me reaching for the volume control to turn it up.  The next few songs take a more straight ahead heavy rock approach, but by song five "The Stride", the crunchy punk feel is back. McKagan throws in one wimpy ballad, "Mother's Day" in the middle, but if we crucified every rocker that did this, they'd all be in music prison. Near the end of the disc "Blind Date Girl" has more of a sloppy Kinks/Ian Hunter feel, moving on to "Wasted Heart", which is the other mellow track on the record.  But the boys finish hard with "No More" and keep the thrashing guitars going right to the very end.
So if you need a healthy dose of heavy rock bordering on punk to blow the cobwebs out, buy Sick.  Skip track 7, turn it up to 11 and call me in the morning.
–Jeff Dorgay