posted: September 5, 2012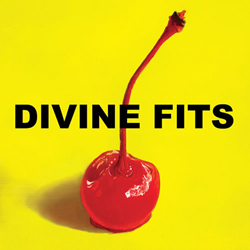 When Divine Fits title a love song "My Love is Real," it's not really a love song at all. Oh, it sounds like a love song, all right. There's a synthetic, handclap-friendly groove, references to being nervous, and disco flashes of groovy, colorful keyboards.
But Dan Boeckner signals his—and pretty much the band's intentions—each time he delivers (pants, rather) the chorus. "My love is real," sings Boeckner, delivering the line as if he's between steps on a treadmill, "until it's not." And bam! There's the band-aid, ripped right off, without warning. The Divine Fits are pop music, but pop music at its most abrupt.
The band is also an indie supergroup, at least if you travel in such circles as the Pitchfork Music Festival. Led by Boeckner and Britt Daniel upfront, Divine Fits are vocally (and on guitar/bass), part Wolf Parade/Handsome Furs and part Spoon. On drums is Sam Brown of punk act New Bomb Turks, and, relax, that's as much of a history lesson as this review will give.
Just know that the band looks as it sounds. At a recent Los Angeles gig, Daniel and Boeckner essentially came onstage wearing ratty undershirts and tank tops. Built too wiry thin to be toughs, they looked the type too happily shut-in to be concerned with fashion, and who count a night spent searching through record crates as socializing. Near show's end, Divine Fits tackled Tom Petty & the Heartbreakers' "You Got Lucky," and the song's stalker-cold keyboard, guitar release, and sawed-off vocals essentially served as a mission statement.
Yes, the keyboards of Alex Fischel give Divine Fits a vintage, 70s yesteryear feel, a sense of time and place otherwise proudly lacking in the sparse, modernist arrangements. The shell of this 11-track album is barren, emotionless at times, but A Thing Called Divine Fits succeeds as a record of moments rather than a collective whole. Look past the folded arms, and each track has reasons to return. They're there in the call-and-response bass of "What Gets You Alone," which gets increasingly close to convulsing the song into a heart attack as it progresses, as well as the neon keyboard hum of "Baby Get Worse," which seems to stop the tune just short of the glorious chorus Boeckner and Daniel torturously deny it.
Edges win out over smoothness. The panicked clicks and warm guitars of "For Your Heart," for instance, or the percussive wind-ups of "Flaggin A Ride." And desserts, such as in "Like Ice Cream," aren't treats, but hearts with which to be toyed. But the band revels in games, treating the songs as lean little puzzles, and letting the listener fill in the gaps.
–Todd Martens