posted: February 24, 2010
Purchase
deluxe devo
The Ultra-DevoLux ltd. Edition
Warner Bros.
CD with DVD and 7" 45rpm single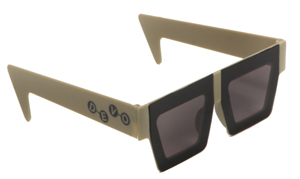 In case you missed it, DEVO is back in full force and it's a wonderful thing.
In case you missed them last summer or earlier this year, This $49.95 collector box includes remastered versions of, Q: Are We Not Men? A: We Are Devo! and Freedom of Choice on CD, along with a special 7-inch 45 (on clear yellow vinyl, no less) featuring the album cut of "Jocko Homo" on one side and "Mongoloid" on the other. Other goodies include a great DEVO mini-poster and a booklet with the credits from both albums.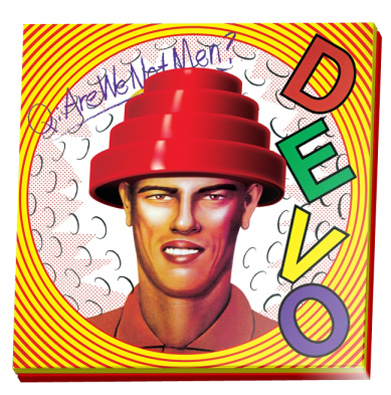 There's not much we can say about these two seminal DEVO albums that hasn't been said over the years, but in case you've worn out your original LP's or detest the sound of the original CD's, (the remastered versions sound a lot better), you need the DEVO-LUX version because it includes a DVD of the original Truth About De-Evolution video collection and a second DVD with footage from their London where they performed Are We Not Men… in it's entirety.
And those albums aren't just the originals remastered, they've got some great bonus tracks. Are We Not Men… features demo versions of "Uncontrollable Urge" (Produced by Joe Walsh!), "Social Fools" and "Sloppy." The Freedom Of Choice features three bonus tracks as well as the six track DEV-O Live EP, which was recorded live at the Warfield in San Francisco in 1980.
But the real jewel for this writer is the new concert footage on Disc two; The spud boys put on a rocking performance. Though they bounce around a little less than they did in 1978 when I first saw them, the enthusiasm is still there, and their voices are all strong. Kudos to Mark Mothersbaugh for dusting off his vintage synthesizers for the performance, it makes the show that much more of a time warp. If you missed the recent mini-tour, this is the closest you can get.
The original DEVO videos are crude but a blast. If you were around to see them the first time in 1975, you went apeshit and your parents definitely suspected you were on drugs for enjoying this kind of thing. DEVO's slogan "Lay a million eggs or give birth to one" is as true in 2010 as it was in 1978, and it's always fun to see Booji Boy. This footage reminds us all just how far ahead of their time DEVO actually was.
So pull your credit card out and buy the DEVO-LUX edition, you won't regret it. Stay tuned, as the 2010 tour unfolds, we'll be there to cover it!
–Jeff Dorgay