posted: April 16, 2009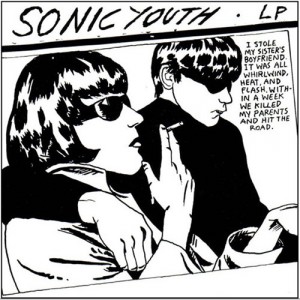 While most Sonic Youth fans cite 1988′s Daydream Nation as that's group's masterpiece (and rightly so), I always had a warm spot for Goo. This 1990 album, Sonic Youth's first major label release on Geffen, nearly defined the term "art rock," causing even the most urbane pseudo-hipsters to suddenly latch onto the group's heroin chic and declare themselves suddenly edgy. While I can't say that I was a devout fan that long before this period, I do remember spending afternoons with my Mohawk-wearin' little brother listening to Sex + Confusion and tripping out to Kim Gordon's "I'm only ten years old" chant. So naturally I turned up my nose at every Johnny-come-lately who pretended to know more about cover artist Raymond Pettibone than I did.
Goo was never quite mainstream, but it did provide an interesting, ramshackle bridge to the other side.  It certainly gained notice for "Kool Thing," the closest thing the group ever had to a real chartbusting hit. Who can forget Chuck D responding with a "tell it like it is" to Gordon's insistence that he help her "liberate us girls from male white corporate oppression"? Fear of a female planet? Word up. I still have dreams about Steve Shelley's fevered drumming as he channels Keith Moon through the choruses.
But I love Goo for one reason and that's the opening number, "Dirty Boots." It's a sprawling, moody and epic song that sounds more like an outtake from Daydream than anything else on the album. I love the way it starts off like a space ship landing, runs through a couple of verses in a stripped-down rock 'n' roll cadence and then bursts into flames as Lee Ranaldo and Thurston Moore jam screwdrivers into their electric guitars. Then they gently pluck at their axes until it sounds like rain falling, and this wondrous mess of a song comes to a close. It's the closest thing the punk generation has come to "Bolero."
–Marc Phillips