posted: April 2, 2009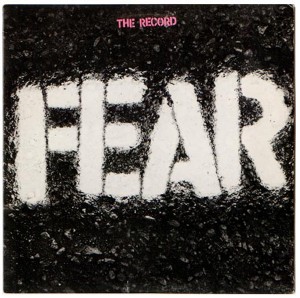 As a departure from our normal new music routine, Friday's will feature great albums from our past that we love. If you missed them the first time around or need a fresh copy because you played it too much, you can click on the "purchase" link to buy one from Music Direct.
I first found Fear on the punk documentary film "Decline of the Western Civilization", directed by Penelope Spheeris who would later go on to direct "Wayne's World" and the even more successful "Decline of The Western Civilization Part Two: The Heavy Metal Years."
During Fear's performance of "Let's Have a War", a number of fans are screaming and spitting on lead singer Lee Ving; standard punk faire. But when a pissed off fan tries to take the stage, Ving promptly administers a smack down and sends the fan reeling back into the crowd. I was a fan for life. Every track on this record is great, but my absolute favorites are "Let's Have a War", "I Don't Care About You" and "We Gotta Get Out of This Place".
So take this one home and crank it up, as loud as your stereo will go and slam into whatever is nearby. If this record doesn't get you out of whatever mood you are currently in, it will certainly clear your company out of the house when you want them to leave.
–Jeff Dorgay