posted: July 15, 2015
Chris Lightcap's Bigmouth
Epicenter
Clean Feed,
CD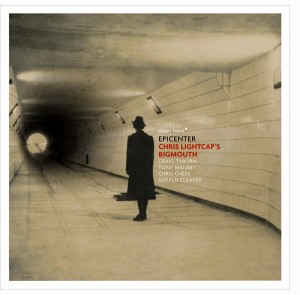 About ten years ago, Bassist Chris Lightcap formed his own group on a whim. He had already done the hard work to make a considerable name for himself—so much so that he could draw from the pool of top young New York-based improvisers. Since the late 1990s, he served as a sideman to the likes of Regina Carter, Joe Morris, and Matt Wilson. Lightcap also performed with the great players he recruited for his band, which he may have named Bigmouth with tongue firmly planted in cheek. After the appearance of the sextet's 2010 album, Deluxe, it was clear he no longer needed to hide behind irony.
Except for alto saxophonist Andrew D'Angelo, most of Bigmouth returns for Epicenter. Lightcap had even more resources to work on for his new pieces, including a grant from Chamber Music America New Jazz Works program. The result is a thrilling collection that interweaves West African music, jazz improvisation, and classical ensembles without any obvious giveaways about determining origins.
Lightcap's compositions gradually unfold. While he eschews overtly complex changes, he packs different worlds beneath their austere surfaces. Craig Taborn's Wurlitzer electric piano drives "Nine South" and jogs amidst Tony Malaby and Chris Cheek's blended tenor saxophones. African influences are suggested in the way melodic lines may seem like they're repeating, but subtle changes appear—a trait common in Nigerian highlife and afrobeat. Taborn's staccato notes on "Still Well" also upend the instrument's familiar resonance. But most of Epicenter's strength comes via quieter passages, like Lightcap's acoustic guitar intro to "White Horse" and Gerald Cleaver's melodic drumming on the title track. "Stone By Stone," in particular, shows how much can be said just by letting choice phrases linger.
"Down East" arrives as a break from the generally suite-like songs. Here, Taborn's aggressive saxophonists' shrieks would have fit on an early Stooges album. In a somewhat related proto-punk vein, Epicenter ends with a compelling version of Lou Reed's "All Tomorrow's Parties" on which Malaby and Cheek offer a haunting variation on Nico's icy intonation. While Lightcap maintains a stately pace, the group kicks up a storm that echoes a different song on the debut Velvet Underground album: the blasting free-improv of "European Son." It's not hard to imagine how loudly Reed would have applauded.
–Aaron Cohen