posted: May 19, 2009
Cat or Yusuf?
Roadsinger
Universal
CD, LP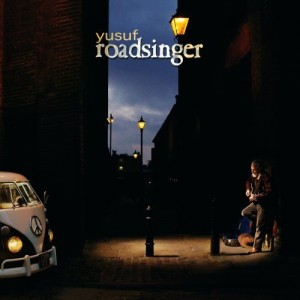 The singer formerly known as Cat Stevens pretty much dissappeared from the world of popular music in 1979 when he became a Muslim.  There is plenty of information on the web about what he's been up to since, but he resurfaced again in 2006 with his last release, An Other Cup.
An Other Cup got mixed reviews and while a decent record, did not really come together stylistically.  It varied from remakes of past Cat Stevens songs, to a cover of "Don't Let Me Be Misunderstood" and some new material that reflected on his spiritual journey from the 80′s until now.
Roadsinger puts Yusuf back squarely in the music business with a top notch product.  Though he has been making appearances on The Colbert Report and The Tonight Show and other prime media spots, he has only played one concert in the United States, with very tentative plans for future dates.  You can read Rolling Stone's concert review here:
http://www.rollingstone.com/rockdaily/index.php/2009/05/12/yusuf-returns-to-us-stage-after-three-decades-at-la-show/
If you weren't one of the lucky few that got the live experience, the current record is Yusef/Cat Stevens at his finest; while his faith is stronger and he is more focused from the journey, he's always been a spiritual man communicating through his songs.
The recording quality, even on the CD is excellent, with a warmth that takes you right back to where your favorite Cat Stevens songs left off.  Yusuf's voice is as strong as ever, with his signature resonance intact. This is a CD that you can listen to from start to finish.  And if you act fast, there are still some LP's left at Amazon UK.  Plans for a US vinyl release are on hold for now, so if you want to make sure you get an LP…
Whether you liked him then, or are discovering him for the first time, Roadsinger is a finely crafted album.
–Jeff Dorgay