posted: November 26, 2009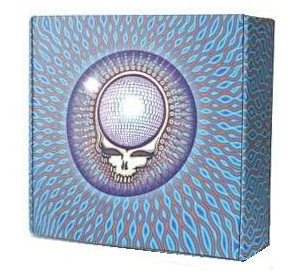 Staff music writer Bob Gendron is the undisputed king of box sets; he's got more of them than anyone I've ever met, so it's only fitting that he'd have some great suggestions for the holiday season. Box sets make the greatest holiday gifts because when wrapped they look inconspicuously like that shirt you aren't going to wear anyway!
So make your favorite music lover happy and give the gift of music instead…
Nirvana: Bleach (20th Anniversary Deluxe Edition). Sub Pop (CD or 2LP)
The circumstances surrounding the recording of Nirvana's debut album—released in June 1989 on then-fledgling Seattle imprint Sub Pop and made for a paltry sum of $600 at Reciprocal Studios—are so ingrained in pop-culture lore that little further explication is needed to address its irony and importance. Just over two years later, the trio (augmented by new drummer Dave Grohl) forever changed the face of music. It's for these reasons that the deluxe reissue of Bleach is all the better for bypassing the temptation to wax poetic about the group's early status as crude, distortion-scarred, metal-scraping underground garage-rock upstarts whose ragged rumble reflected their Pacific Northwest environs.
Instead, listeners get remastered sonics (that thankfully don't disturb the music's do-it-yourself rawness and yet still manage to amplify the impact) and an engaging, thick booklet chock full or rare and unseen period photos that illustrate the band better than any essay possibly could. Dig the acne on Curt Cobain's face; read the text of the band's recording contract. Then, there are the songs—troll-like stomps, sludgy drones, and grinding sidewinders that howl with pent-up emotion, drunken fun, and youthful boredom. Cobain's way with words is already evident on "School"—count the ways he twists the same four-word spoken refrain turn into several different phonetic variations—as is his blistering self-deprecation (the chugging "Negative Creep") and tortured wail ("Paper Cuts").
Better still, the inclusion of a complete, previously unreleased concert from February 1990 in Portland puts Nirvana's meteoric rise into clearer perspective. A spry cover of the Vaselines' "Molly's Lips" and then-unreleased original "Sappy" point at the catchier, pop-laden hooks the band would soon blend in with the bruising, down-tuned grooves it beat into submission on Bleach. As for the set-ending destruction? Indicative of another tradition to which the band stayed true until the very end. –Bob Gendron
R.E.M.: Live at the Olympia. Warner Bros. (4LP + 2CD + DVD box set)
After bucking the trend by resisting the urge to release a live album and capitalize on its mass popularity during the early 90s, R.E.M. finally gave in and issued the plainly titled R.E.M. Live in 2007. The double-disc set is as bland as its title, a document so uninspired and uninspiring that it seems to be a mistake—a contract-fulfilling statement that stains the group's legacy in the same manner that a majority of its post-Bill Berry studio albums done.
Seemingly recognizing the misstep, R.E.M. arranges Take Two with the far superior and consistently delightful Live at the Olympia, available in a deluxe configuration box set laden with the 39-song program on 4 LPs and 2 CDs as well as a documentary film on DVD by Jacknife Lee. "This is not a show" announces singer Michael Stipe near the beginning of the program, explaining R.E.M.'s experiment: a five-day residency designed as a rehearsal performed before live audiences in Dublin. Whether due to the decreased pressure of the informal settings, or by virtue of revisiting myriad deep-catalog tunes ignored for years, or the thrill of playing still-unreleased new material, this is the R.E.M.—bold, lively, attuned, passionate, engaged, balanced, loose, jangly, unfussy, noisy, literate—that in the 80s established the precedent for indie-rock acts to follow.
The group's energy is palpable, its enthusiasm and willingness to woodshed a sorely needed reawakening that translated to parts of 2008's Accelerate. Bypassing obvious hits ("Losing My Religion," "Stand," "Everybody Hurts," "It's the End of the World As We Know It") in favor of equally great albeit less-famous selections from earlier in its career ("Letter Never Sent," "Feeling Gravity's Pull," "Maps and Legends," "Wolves, Lower," and scads more), R.E.M. completes its goal of getting back in touch with its roots, and in the process, demonstrates that it still matters—a question that's remained unresolved ever since Berry departed.
A gift for old fans and a fine entry point for newcomers that aren't yet aware of the genius of R.E.M.'s IRS recordings, this career-spanning collection is the group's finest work in 13 years. The sonics feature a generous soundstage and above-average imaging; the colorful packaging includes song-by-song liner notes by guitarist Peter Buck and three sturdy gatefold sleeves to hold all of the discs. Excellent. –Bob Gendron
Light: On the South Side. Numero Group (Book +2LP)
Since emerging in 2006 as a niche reissue label specializing in both unearthing lost music gems as well as the incredible stories that accompany the regional labels and artists that produced them, Numero Group has established itself as the country's premier crate-digging imprint. While excavations have turned up everything from children's music to folk to power pop finds, the Chicago-based company's nose for soul is unparalleled.
Its latest volume may be its best yet. If not, Light: On the South Side is undoubtedly Numero's most extravagant and audaciously packaged set—a dazzling collection that should receive an automatic Grammy nomination for Best Recording Package. Housed in a slipcase box, the compilation's 2-LP gatefold vinyl and 132-page hardbound 12×12 book offer the ultimate immersion into Chicago's African-American South Side nightclubs and the sounds, sights, personalities, and smells that filled them on a nightly basis. The gorgeous collection is a prerequisite for any fan of blues, R&B, and soul (and by natural extension, rock and pop)—and anyone curious to glimpse a bygone era of life-after-dark celebrations staged by urbanites that lived for evenings on the dance floor, in front of the Wurlitzer, and in leather booths surrounded by the opposite sex, booze, and cigarettes.
Stuffed with revealing black-and-white photographs snapped by Michael L. Abramson, who between 1975 and 1977 frequented long-gone locales such as Pepper's Hideout, The High Chaparral, The Patio Lounge, and The Showcase Lounge between, the coffee-table-caliber book brings to life the atmosphere, feel, and emotion of the period better than any medium imaginable. Abramson focused not on bands but the crowds inside—and outside—the clubs, capturing a range of expressions and fashions that disclose intimate conversations, dangerous secrets, and multiple moods.
People are stoned and high, pimped out and pooped out, overjoyed and overdone. The spaces' interiors and walls breathe and sigh. Big, street-hogging, gas-guzzling cars loom outside, their whitewall tires and broad steel frames magnets for the drivers and passengers hovering around them. Patrons get close in booths and engage in dances of seduction and romance, the men and women pursuing different strategies but sharing common motives. A diverse blend of clubgoers—musicians, macks, churchgoers, hucksters, toughs, deejays, girlfriends, hookers, working-class stiffs—highlights the lack of such mixing at today's modern venues. Nick Hornby contributes a short albeit pertinent essay. But wisely, the producers let the photos—all published without captions—stand, and speak, for themselves.
Dubbed "Pepper's Jukebox," the 17-track compilation of simmering funk, blues, and soul aurally transports listeners to the mid-70s and into clubs whose standard accoutrements comprised cigarette machines, cans of Schlitz beer, broken tile floors, jars of pig's feet, and metal-grate-covered windows. Organic and warm, yet raw and occasionally thin, the sounds are true to the time and place, and will make anyone wish they could have experienced Pepper's on a cold January night in 1976 or 1977. –Bob Gendron
The Rolling Stones: Get Yer Ya-Ya's Out! ABKCO (Super Deluxe 3LP + 3CD + DVD Box Set)
The Rolling Stones have release more live records and DVDs than most bands have issued studio albums. Save for 1995's Stripped, which presents several of the band's lesser-performed catalog nuggets in bare-bones arrangements, every Stones concert effort from the past three decades exists as nothing more than a post-tour, cash-it-in, instantly forgotten souvenir. (Seriously, when is the last time you spun Love You Live?) And none comes close to matching the energy, sass, and luster of 1970's Get Yer Ya-Ya's Out! Documenting the group's two-night stand from Madison Square Garden in November 1969, the rambunctious album captures the group at its bluesy, primal peak. It's no coincidence that guitarist Mick Taylor is onboard. He's instrumental in fanning the heat of the epic "Midnight Rambler" and sultry, purring "Stray Cat Blues," tunes that the quintet seldom revisited after Taylor's exit.
In commemoration of the concerts' 40th anniversary, ABKCO assembled a splendidly over-the-top "super deluxe" package that expands the original album with five previously unreleased live cuts as well as material from show openers B.B. King and Ike & Tina Turner. The remastered musical program is repeated on both CD and LP. An accompanying DVD features backstage and live footage, as well as scenes from the record's cover shoot (yes, a donkey is involved). Directed by the Maysles brothers, the film—also titled Get Yer Ya-Ya's Out!—hasn't been available in decades.
Anchored by a 56-page collector's book and replica tour poster, the packaging is exceptional, and the sound quality on vinyl as good as live Stones have ever sounded on analog. Casual fans won't want all of the bells and whistles, but aficionados will be transported to their favorite band's heyday in a time-traveling manner replete with compelling visuals, striking audio, and physical ephemera. All that's missing is the Uncle Sam hat Charlie Watts is wearing on the cover. Now, how about the same treatment for Let It Bleed and Exile on Main Street? –Bob Gendron
Grateful Dead: Winterland June 1977: The Complete Recordings. Grateful Dead (9CD box set)
Archival performances continue to spill from the Grateful Dead vault, which seems to contain a limitless supply of material that is good enough to warrant release in the face of literally hundreds of hours of already available and officially sanctioned live Dead material. While the band's gatekeepers need to soon consider moving beyond the 70s and yet avoid the early and mid-80s—why not a grouping of Wynton Marsalis performances with the group in the 90s?—Winterland June 1977: The Complete Recordings is another choice selection as it presents the band's complete three-night homecoming from a tour that's among the most celebrated in Dead history.
Some believe that San Francisco had an adverse affect on the band in that the familiar turf made Jerry Garcia and Co. too relaxed. Yet such criticisms largely fail to carry sway here, where not even Donna Godchaux's backing vocals get in the way. Sure, the Dead played wilder shows during this period, but the interplay is sharp, rhythms tight, textural washes rich, chemistry strong, tones pronounced, and the extended jams building to exciting heads. Containing a total of 68 songs, the three evenings each contain hot sequences: in particular, the first night riding high on "Samson and Delilah"→"Terrapin Station"→"Morning Dew"→"Around And Around" and the third featuring a six-song segue that culminates with "Terrapin Station."
Overseers of all things Dead continue to get the most sonic pleasantries out of CD as possible. Via Plagent Processes, every passage of the original analog master tapes is distortion free and pitch perfect, and mastered onto HDCD for superb sound. Sure, there are plenty of freely available Dead shows on the Web, but none claim this sort of fidelity. Engaging. –Bob Gendron
Where the Action Is! Los Angeles Nuggets 1965-1968. Rhino (4CD box set)
With its latest Nuggets entry, Rhino follows the same packaging model as it did for the scintillating Love Is the Song We Sing: San Francisco Nuggets 1965-1970 and moves a few hundred miles down the California coast. Thematically arranged by geographic area, the four-disc Where the Action Is! Los Angeles Nuggets 1965-1968 is another deserving edition to the essential series, an excavation of near-flawless counterculture singles by bands familiar (The Byrds, Jan & Dean) and obscure (The Mustangs, The Spats). And while known tracks such as Lee Hazelwood's "Rainbow Ballroom" and The Doors' "Take It As It Comes" hold true, its lesser-known gems by bootstrap bands that were trolling clubs on the Sunset Strip and in the suburbs that deliver the biggest thrills.
Whether it's the Standells raving about a "Riot on Sunset Strip" or Ken & the Fourth Dimension daring anyone to "See If I Care," this is what gritty, raw, raucous 60s rock and roll is about. However crude, there's a timeless quality to the overdriven guitars, humming organs, gauzy vocals, R&B-spiked rhythms, jangly chords, waterfall harmonies, stinging solos, and psychedelic accents that pepper the economically concise songs—most of which still come across with a freshness that suggest they could well be emanating out of basement windows today. Of course, the lyrics belie that notion. In step with the period, there are plenty of references to dying young, teenage rebellion, drug experimentation, hippie delights, and abstract thought. Performances are urgent and compelling, even when the material leans in folksy directions or whimsically dreams of love. And it does: Discs 3 and 4 are dedicated to L.A.'s producers, arrangers, and studio wizards, while Disc 4 encompasses the region's transition into a country- and canyon-rock mecca.
Ranging in scope from echo-laden pop to jazzy psychedelic odes to hard-biting soul, the 101 tracks are illuminated by song-by-song commentaries and histories. A Los Angeles timeline, regional nightclub crib sheet, and radio-station essay also accompany the music, each providing context and trivia that place the groups in a light that most never experienced. With one's eyes closed and ears open, it's all enough to serve as a time machine that takes a trip back into a quainter, hipper, and cooler Los Angeles that, like the eclectic albeit tunes here, is a secret garden to which you'll want to return again and again. –Bob Gendron
David Bowie: A Reality Tour. ISO/Columbia/Legacy (2CDs)
When David Bowie embarked on his Reality Tour in 2003-04, the Thin White Duke was in the midst of a creative renaissance fueled by back-to-back studio album successes. Puzzlingly, the celebrated outing stands as Bowie's last venture—and one celebrated on a live DVD. The entire contents of that program, as well as three bonus tracks—"China Girl," "Breaking Glass," and "Fall Dog Bombs the Moon"—are remastered and included on the 33-track A Reality Tour double-disc set, which serves as a reminder of Bowie's convincing, oft-exhilarating performances.
From the opening "Rebel Rebel," here slightly rearranged, the singer toying with tempo and phrasing, to the ferocious "I'm Afraid of Americans" and mystical "Five Years," Bowie treats every song with equal passion and soul, favoring no era or style. A crack backing band flushes out all of the necessary colors, textures, and tones. Doubling as a career-spanning greatest hits (and then some) package, A Reality Tour does more in that it demonstrates Bowie's contemporary relevance via the ten tunes played from his last two records as well as his penchant to continue to mix things up, even when he's got nothing left to prove. As a bonus, he's in spectacular voice and spirit throughout. Punchy, dynamic sonics round out a collection that should appeal to those that never heard Heathen or Reality, as well as anyone not fortunate enough to see what may stand as Bowie's final tour. –Bob Gendron
Big Star: Keep an Eye on the Sky. Rhino (4CD box set)
The only question surrounding Keep an Eye on the Sky, a four-disc box celebrating the music of the relatively short-lived Big Star, isn't whether or not it's great. That's a given. Rather, the issue why it took so long for the set to materialize. More than three decades after it split, the penultimate power-pop band finally gets its due via a sparkling collection that assembles 55 previously unreleased cuts (in the form of live tracks, alternate takes, unused mixes, demos, and rarities) and 43 songs from the cult-favorite group's three studio albums—as well as solo efforts from key members Alex Chilton and Chris Bell. There are enough soft harmonies, bounteous hooks, psychedelic touches, and cascading melodies here to last a lifetime—or so it seems.
Part of Big Star's appeal is how a group with such immaculate skills and sweet sounds remained obscure, even in its hometown of Memphis. It ultimately took mainstream success by the likes of Tom Petty, Cheap Trick, and the Replacements to push Big Star's legend, and never has it loomed larger than it does on this fantastic treasure trove. No matter the song—"Back of a Car," "When My Baby's Beside Me," "Manana"—contagious energy abounds, along with an unflinching desire to sing along. The vault material lends an even greater perspective; a complete concert recorded in 1973 at Lafayette's Music Room proves the band knew its way around the stage as well as the studio.
Essays by Bob Mehr and Robert Gordon abet extensive track-by-track notes by producer Alex Palao in painting a detailed picture of the group's history that will both appease longtime followers and put fortunate newcomers on solid ground. Pleasing sonics, too. Essential. –Bob Gendron
Rod Stewart: The Rod Stewart Sessions 1971-1998. Rhino (4CD box set)
For better and worse, the trajectory of Rod Stewart's career is accurately traced on The Rod Stewart Sessions 1971-1998, a four-disc box set that collects 63 previously unreleased outtakes, alternate versions, and rehearsals that span nearly three decades. While casual listeners will want to stick with familiar studio versions, fans of the singer's looser, unpolished—and eminently superb—songs should delight in the stripped-down arrangements and oft-naked takes offered here.
Stretching from 1971 through 1982, the first two discs are nearly infallible, containing early renditions of rock classics such as "You Wear It Well" and "Seems Like a Long Time," each featuring Faces mates Ronnie Wood on guitar and Ian McLagan on piano. Stewart's voice simmers, as it's etched with an emotional grit he abandoned later in his career. Alas, the 80s is where he begins to lose the plot. Discs three and four are largely inconsistent, as the songwriting erodes and Stewart becomes obsessed with flashy hit-making. Granted, edgier renditions of "Show Me" and "I Wanna Stay Home" reveal that Stewart hadn't completely abandoned his roots. Yet a pronounced split between eras remains. Nevertheless, the box comes closer than anything else to salvaging some of Stewart's late-period credibility.
Kudos to Rhino for the usually dependable sonics and inclusion of illuminating liner notes. More than a curiosity item, The Rod Stewart Sessions is almost enough to make one forget about those dreadful Great American Songbook albums. Almost. –Bob Gendron
Jane's Addiction: A Cabinet of Curiosities. (Rhino) (3CD + 1 DVD)
A rarities set that's housed in a snazzy wooden shrine packed with concert memorabilia, ticket stubs, and other trinkets, A Cabinet of Curiosities exclusively focuses on the group's original incarnation, suggesting that everything else doesn't matter. Primarily aimed at diehards, the 43-song collection features 30 unreleased tracks in the form of demos, live cuts, covers, and scattered B-sides. A DVD compiles assorted music videos and a short European MTV performance. But it's the early demos and a 1990 concert from Los Angeles that prove revelatory.
As made evident by the chronologically ordered set, by fall 1987, Jane's had already recorded rough (and in many cases, surprisingly complete) versions of songs that comprised a majority of its first two albums as well as several demos of tunes that would land on its breakthrough third record, Ritual de lo Habitual. The raw recordings further expose the genuine purity of the quartet's innovative sound and juxtaposed moodiness. Favorites such as "Jane Says," "Had a Dad," "Ocean Size," and "Three Days" brim with the dark exoticism, free-spirit soulfulness, hard-rock explosiveness, gothic psychedelia, and avant-garde pop that make the band's music and ideas so pioneering. This is the sound of both the touristy and seedy sides of Los Angeles, a collision best experienced through the context of the live takes and practice sessions included here.
Similarly, an invigorating concert from a three-night stand at the Hollywood Palladium captures the group at its peak. Months away from imploding, Farrell and company tap into the mystic vibes of a hometown crowd and burgeoning album that presaged a coming "alt-rock" movement that ultimately took hold as Jane's drifted apart. Such peeks into history make A Cabinet of Curiosities worthwhile for the uninitiated and enthusiast even if its unconventional approach may not be for everyone—just like Jane's itself. –Bob Gendron
The Stone Roses: The Stone Roses. Legacy (2CD + DVD "Legacy Edition," LP "Gatefold Vinyl Edition," and 3CD + 3LP + DVD + book "Collector's Edition")

Anointed "the greatest album of all time" by British publication New Music Express, the Stone Roses' self-titled 1989 debut has been given a hero's treatment in the form of four different packages, all of which contain a remaster the original UK album and most of which come with bonus material. Leaders of the so-called Madchester scene, the band merged guitar-driven pop and shifty dance beats in an era when the two styles stood miles apart. Atmospheric washes, swimmy bass lines, restrained vocals, attitudinal stances, layered guitar echoes, and ocean-sized hooks round out a set that's aged well and served as a blueprint for subsequent Britpop developments.
Ian Brown sings in a breathy tone that's somewhere between bratty and precious on the landmark "I Wanna Be Adored," negotiating a terrain that tunes such as the phase-shifting "She Bangs the Drums," nimble "Waterfall," and cocky "I Am the Resurrection" gladly pursue. Druggy, detached, and deliberate, the Stone Roses latch onto a cool that initially emanated from New York's art-house parties and update it for a rave culture. As a whole, the album remains mandatory pop listening.
As for the bonus material? Not so much. Several highlights are scattered amidst the scads of rarities, particularly Disc 2's B-sides and non-album A-sides. A collection of "Lost Demos" is for diehards only, yet the DVD of a now-legendary Blackpool Empress Ballroom gig warrants repeat viewings. Credit Legacy for making available options to suit everyone's taste. –Bob Gendron
Miles Davis: The Complete Columbia Album Collection. Sony Legacy (71CD box set)
Yeah, you read right, 71 discs! If your Miles collection is spotty or you have to be a completist collector, this box comes neatly packaged complete with mini-LP style packaging and a few bonus tidbits of Miles that you might not already have. For the first time on DVD is the Live in Europe '67 concert and an audio release of the 1970 Isle of Wright festival.
The press release from Sony promises bonus tracks and other unreleased bits sprinkled in throughout the collection. Also included is a 250 page book with a Miles' biography and a complete discography to his work, which provides a nice index to the box.
The recording quality is above average and if you are a recent music server owner, this is a great way to just put the whole Miles' collection on your hard drive. For now, this is an Amazon exclusive and at about $400, a great price. But the killer deal is at Amazon UK, where you can buy the box for 120 pounds. –Jeff Dorgay