posted: February 1, 2010
Bill Mumy CD's
Two that got away....
Global Recording Artists
CD, MP3 Download
When I was looking through Bill Mumy's profile on Facebook, I had forgotten (sorry Bill) that he's been a musician all of his life in addition to being an actor and has produced about 20 albums over the years. I know what you're thinking, "child star wants to be a rock star, yada, yada." So I couldn't stand it, I had to go buy the last four CD's. And they are all great.
Bill Mumy is the real deal. With a very unique, folky style, on The Landlord or the Guest he reminds you a little bit of Cat Stevens at time, others perhaps Tom Petty or even Steven Stills, yet not really any of them. As I said, Mumy has a unique style that grabs you right away. He's a great guitarist and approaches the instrument with a very delicate touch.
In "No Show", he sings "I tossed your photographs into the riverbed, I burned your letters too…I gave you too much of my dreams." The whole record has this intimacy to it that almost makes you feel as if you stumbled on someones innermost thoughts that were written somewhere, perhaps not meant for your reading. This feeling continues throughout the record, with "I Drove by Your House Night" containing some great bluesy guitar riffs, reminiscent of your favorite Dave Alvin record. The record stays somewhat sad right until the end with, "Goodbye", a sparse piece accompanied by a single acoustic guitar.
Interestingly, the cover on The Landlord or the Guest was photographed by Angela Cartright.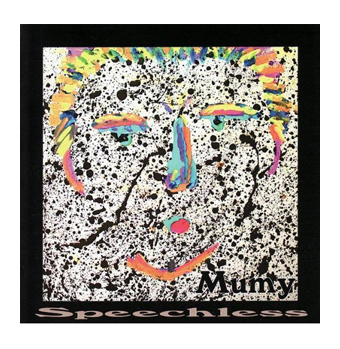 The next record is titled Speechless. Appropriately, because it is all instrumental. Mumy describes it as "21st Century Ambient Blues" but he's being way too modest. This is one of the best ambient discs I've ever heard. I hope Mumy won't mind the comparison, but the first track, "Depth of Feel" sounds like it could be an outtake from Brian Eno's Ambient series. To put this to the acid test, I tried it on a good friend who is an Eno fanatic. About three minutes into the track I told him that this was an Eno bootleg and in a Wayne's World moment, he exclaimed, "No way, where did you get this?"
By the second track, "Pardon me Asking", Mumy adds more synths to the mix and folds in some more of that blues feel. Definitely a great groove that almost makes you feel like you're in one of those Volkswagen ads where the music syncs up with the adventure that is your life.
Speechless really has three distinct grooves; gentle ambient, spacey/bluesy and spacey/synth-y, with a slight bit of crossover on a few tracks. If you're looking for a new soundtrack for your leisure time, I highly suggest Speechless. My apologies to Bill Mumy for missing this one last year.
–Jeff Dorgay