posted: July 6, 2017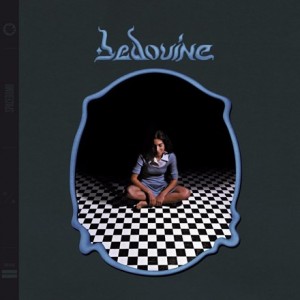 Azniv Korkejian, who performs under the name Bedouine, has followed a nomadic path in both her life and music. A singer-songwriter of Armenian heritage, she was born in Aleppo, Syria, and raised in Saudi Arabia before relocating to the United States with her parents. Continuing her wandering ways, she spent time in Boston, Houston, Los Angeles, Lexington, Austin, and Savannah. Along the way, she earned a degree in sound design. Korkejian finally ended up back in Los Angeles, finding kindred artistic spirits among the hipster habitués of Echo Park.
Produced by Gus Seyffert, her self-titled debut serves as a striking introduction to a unique performer. The opening "Nice and Quiet" sets the tone with dreamy and sleek atmospherics. With her alluring and cottony-soft vocals, Korkejian at times sounds like a doppelganger of Astrud Gilberto, the legendary bossa-nova singer best known for the classic 1964 hit "The Girl from Ipanema."
Korkejian's songwriting proves both oddball and arresting, her words frequently taking unexpected turns they create a remarkable frisson. On "Back to You," she sings, "Like a lamp in the light of day/Drowning in summer rays/I can hardly feel unrequited." Equally striking, "You Kill Me" features shimmering strings and the vocalist planning to get in her car and drive nowhere in the night. Such mysterious images and scenarios get tucked inside sweet songs like so many pieces of fine chocolate hidden behind the tiny doors of an Advent calendar.
Romantic desire also percolates through her restrained tales. On the slow and esoteric R&B number "Dusty Eyes," the yearning narrator confesses that lampposts burning in the night "don't come close to the way I feel about you." The spare, folky "Solitary Daughter" finds Korkejian observing "I am a lake/I don't need to be watered" as her voice dips into old-school recitation. A subdued country outlaw groove undergirds "One of These Days," which sleepily glides along on a warm, insistent walking bass line. A plaint about lopsided love with one person holding out hope her lover will one day reciprocate her feelings, the music recalls vintage Waylon Jennings, with Korkejian's breezy albeit bittersweet voice standing in for the soulful Jessi Colter. "It's stunning, honey, how love has some delays," she intones in an intimate near-whisper.
Occasionally, Korkejian's lyrics seem obtuse or abstract, as on the eerie and impenetrable "Summer Cold." But that's a minor quibble. Bedouine makes for a lovely debut. It's best to sit back, close your eyes, enter her singular world, and enjoy the journey.
–Chrissie Dickinson