posted: April 29, 2011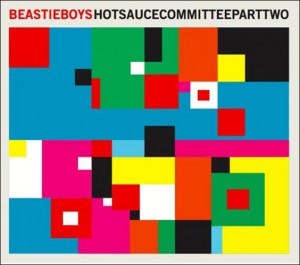 Despite sitting comfortably in middle age—the hip-hop trio's youngest member, Adam "Ad-Roc" Horovitz, is now 44—the Beastie Boys rip into their first album in seven years as if only a few short months have passed since the crew released the now-classic Ill Communication, which turns 20 in just three short years.
Delayed nearly 18 months while the now-fully-recovered Adam "MCA" Yauch underwent treatment for salivary-gland cancer ("How you feeling MCA? Well I feel alright" he rhymes on the robotic "Nonstop Disco Powerpack"), the record finds the longtime mates still embracing their hip-hop "Three Stooges" personas—from the increasingly gruff MCA (Moe) to the goofball rhymes of class clown Michael "Mike D" Diamond (Curly), who playfully compares himself to a Jewish Brad Pitt on "Long Burn the Fire."
But even though some of the Beasties' lyrical references sound like mid-90s holdovers ("Be kind, rewind"; "Like a Big Mac attack on your gut"; "I'll make you sick like a Kenny Rogers Roaster"), the music consistently points forward. The MCs rhyme atop punk-ish, Ramones-via-Run-DMC backdrops ("Lee Majors Come Again"), steel drum-flecked Caribbean grooves (the Santigold-guesting "Don't Play No Game That I Can't Win"), and rumbling digital passages that sound something like Transformers breakdancing (album standout "Too Many Rappers," which finds guest rapper Nas dropping his best verse in years). "Nonstop Disco Powerpack," a song whose title sounds like it was translated from Japanese ("Happy America Disco Baseball!"), flashes even further into the future, the rappers' voices breaking and digitizing like humanoids reverting back to robot form.
As one might expect, the Beastie Boys have greatly matured since breaking through with "(You Gotta) Fight for Your Right (To Party!)" back in the mid-80s. Offstage, the trio is known for trumpeting political causes—countless urban hippies adorn their Prius bumpers with "Free Tibet" stickers due to the Beasties' persistence. And in recent years, the group has tried to put some distance between it and some of its more hooligan-ish early tunes. No longer does anyone get lyrically sodomized with a Wiffle Ball bat in live performances of "Paul Revere."
Fortunately, Hot Sauce Committee Part Two doesn't fall prey to any middle-aged tisk-tisking. Instead, the three pass the mic like old-school MCs, trading playful boasts (on competing rappers: "I put 'em through a strainer like macaroni, 'cause the shit sounds cheesy!") and weaving together an increasingly dense web of pop-culture references (Wolf Blitzer holograms, Operation, Crocs, Bob Dylan's "Subterranean Homesick Blues"). Besides, how deep can things really get on an album with song titles like "Funky Donkey" and  "Crazy Ass Shit?" Thankfully, when it comes to the music, the Beasties are still more about getting bodies moving than trying to expand minds.
–Andy Downing