posted: June 8, 2017
Arto Lindsay
Northern Spy
LP or CD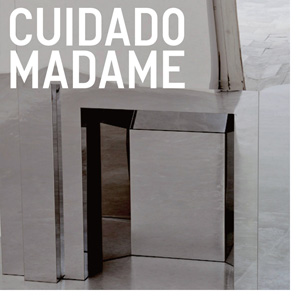 Arto Lindsay believes, for the most part, we're pretty damn good at multitasking. So when his Ambitious Lovers outfit began fusing shards of dissonance with comely melodies on its somewhat neglected trio of albums Envy, Greed, and Lust in the 80s, the unholy blend made sense to those who could not only process—but enjoy—opposing elements bound by a cosmopolitan pop sensibility.
With the oft-lauded DNA, Lindsay, who may be to no wave what Bill Monroe is to bluegrass, brought a frenzied erudition to the fractious nature of East Village noise-prov back in the 70s. But thanks to a Brazilian childhood (a baby-boomer son of missionary parents), he has long had a major yen for the sweet sounds of the country's native songforms. From the Ambitious Lovers canon to his string of discs for Rykodisc and Righteous Babe in 90s and 00s, the artsy guitarist-singer has conflated samba and skronk, funk and forro, Tropicália and trip-hop—always aiming for a sensual result built on shifting textures and abstract poesy.
Those solo albums feature a song design that conflates abstruse eroticism and nuanced irritability, and when the dust settles, it also appreciates earworms as much as Max Martin does. The fact Lindsay doesn't fret over his guitar adhering to any conventional tuning, primarily using it as a cranky percussion instrument, is part of a post-modern charm that gets a kaleidoscopic kick when things fire on all cylinders—often the case. Absorbing the first ten seconds of "Predigo" from 2002's Invoke is akin to being air-dropped into the middle of an explosive jam by Miles Davis' Pangea band.
He takes a tad more curvaceous route on the new Cuidado Madame. As usual, its strengths lie in the friction between the rhythmic élan, chunks of string shrapnel, and supple vocals, sung in both English and Portuguese. Momentum is key. Chattering drums mark the streamlined "Ilha Dos Prazeres," and if they weren't so tightly locked-in with the synth punctuations, it might seem each could be part of two separate tracks. A rat-a-tat groove, flecked with the wise funk lines of bassist Melvin Gibbs, propels "Tangles" as well. "There's a lot I don't recognize in here," coos Lindsay at one point, but as the music unfolds, everything becomes quite cozy.
Cuidado Madame bows as Lindsay's first song-based solo disc in 13 years, and percussion is part of its inspiration. The Rio de Janeiro resident has long been interested in the Candomblé religion and its music rituals. Fittingly, many songs on Cuidado Madame are fueled by atabaque hand drums pulsing and percolating. The singer has said part of their job is to "induce trances." They just might accomplish that goal at certain points, but they also stimulate in the traditional sense. "Grain By Grain" feels dreamy, but gets kicked along by all kinds of beats. Saucy whispers remain a Lindsay signature. Carnal matters are often close at hand, and whether backing up pillow talk or bolstering more overt sexual allusions, the drums are often there to help things veer towards the flirtatious.
On Cuidado Madame, the nexus of all the aforementioned elements arrives with a nod to Emily Dickinson and a trip through the guitarist's most maniacal soloing of the program (after all, the album is named after the Julio Bressane film about housemaids who murder their bosses). The Brazilian Tropicália movement of the 60s has appreciably informed Lindsay's efforts, and the momentary shit storm, complete with churchy Hammond organ swells, comes on as an experimental episode that somehow marries Caetano Veloso's suave side, Tom Zé's entertaining quirks, and the kind of noxious spuzz that was often pointed directly at CBGB patrons. Each aggressively vies for your attention, but any sharp multitasker will find a way to balance it out.
–Jim Macnie