posted: April 6, 2012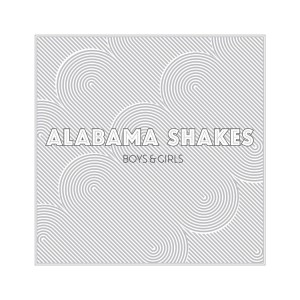 Among the many assets of the Alabama Shakes is to leave the listener wanting more. At 11 songs and 36 minutes, the Northern Alabama group's debut album Boys & Girls isn't exactly a svelte little rhythm & blues morsel. But its songs, only two of which breach the four-minute barrier, are designed for the sneak attack. Keyboards grow sweltering hot, rhythms deliver a groove as if they're conveying an order, and singer Brittany Howard—oh my, Brittany Howard—throws one vocal knockout punch after another. She's steeped in all sorts of blues and soul tradition, yet the real templates here are the likes of Mick Jagger and Jack White.
Indeed, Alabama Shakes' penchant for rootsy instrumentation and songs that build to audience-participatory hallelujah moments has some pegging them as a form of retro or vintage soul act. Such a description isn't inaccurate. Listening to "I Found You" is like blowing the dust off of some long undiscovered Motown gem, and "You Ain't Alone" is a prom-theme slow-dance that channels an era when rock n' roll power chords were discovering the blues.
The tunes on Boys & Girls, however, aren't trying to freshen up tradition. Instead, they're trying to fight out of it. These songs feel as if they belong in a marathon four- or five-hour set loaded with blues and rock staples such as "Roadrunner" and "Everybody Needs Somebody to Love." These are bar-band tough and road-tested versatile, marked by the effortless swing from the tearjerker of a title track to the gospel preaching of "Be Mine." They're offered as deft little challenges: You think you know all there is to know about rhythm and blues? Think again.
First and foremost, the Alabama Shakes are a rock 'n' roll band, one with a lead singer who is equally comfortable to holler and stomp or simply let her voice crack as she tries to connect with a loved one. As for where they will go from here, Boys & Girls throws the doors open wide as it all comes to a close. "Be Mine" swells to a grand finale of hoarse vocals and galloping guitars and keys, "I Ain't the Same" showcases the strength of the riff, and "On Your Way" sees Howard ending the album with a tease.
"It was just me, just little ol' me," she sings, and then gets out of the way to let her band kick up a racket. She's a force, yes, but the Shakes have plenty of other tricks in their arsenal. —Todd Martens
–Todd Martens