posted: February 4, 2013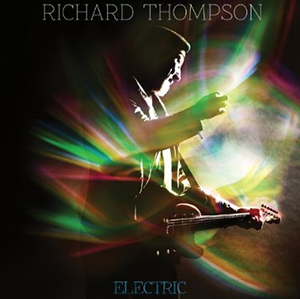 During the course of a 45-year professional career that began with Fairport Convention, Richard Thompson has logged several impressive creative stretches, not least of which is a mid-70s stint that yielded a trio of exceptional albums with former life partner Linda Thompson.
While the English native's wry well never ran dry, he stumbled in the mid-80s and throughout a majority of the 90s, when his songwriting suffered from unevenness and his over-produced albums wallowed in mediocrity. Then irony struck.
In a turn of events the clever Thompson surely must appreciate, Capitol Records kick-started his muse by dropping him from its roster at the turn of the century. He responded by launching his own imprint and, building off of 1999's thematic Mock Tudor, returned to his stripped-down roots. Always more comfortable as a cult favorite than a major-label artist under pressure to log a hit, Thompson hasn't erred in the past decade. He's currently in the midst of a splendid resurgence punctuated by 2003's wondrous The Old Kit Bag and 2010's superb Dream Attic. The melodically astute Electric, his New West debut, extends the hitting streak.
Pairing with drummer Michael Jerome and bassist Taras Prodaniuk in a trio setting, and fielding select contributions from producer/guitarist Buddy Miller and fiddler Stuart Duncan—as well as harmony vocal assistance—Thompson keeps the tunes lean and elegant, adhering to an economy of scale that government agencies would do well to employ in these times of budget crises. While he maintains the ability to blow away most any other living guitarist via his tone, fluidness, control, expressiveness, and feel, Thompson doesn't waste a note or give a thought to showiness. Akin to an engrossing author that recognizes it's harder albeit more rewarding to pen meaningful short passages than rambling long-form statements, he makes every word and phrase matter.
Understatement remains one of Thompson's greatest assets. Built on folk-rock foundations, Electric spans acoustic to amplified arrangements, vitriolic to sympathetic moods, and observational to reflective perspectives—all the while never calling attention to any single characteristic. Miller knows well enough to take a hands-off approach, preserving a live feel that reinforces Thompson's natural instrumentalism and lyrical contrasts. As is his trademark, the singer relays life's romantic follies, paradoxical conflicts, and sage revelations with periscopic distance, minute detail, and uncanny accuracy.
Possessing an acerbic wit and double-edged esprit any savvy attorney would envy, Thompson sketches his protagonists with broad strokes and often eviscerates the line between hero and villain as to better allow his lacerating humor play tricks. He seemingly embraces and skewers a lust-filled old man on a stomping "Stoney Ground" and simultaneously curses and thanks an adversary on the subtly gorgeous "My Enemy." For the poignant "Another Small Thing In Her Favour," a brilliantly insightful (and waggish) reading into emotional wreckage and lingering bitterness wrought by failed long-term relationships, he occupies neutral ground as a one-upped cuckold.
Indeed, while Thompson cuts rivals with a sharp blade ("Good Things Happen to Bad People," "Sally B") and pulls the knife out slowly, his tender moments indicate that, in spite of obviousness jadedness and cynicism, a flawed albeit sentimental humanism lies underneath the surface.
"I've had wives and I've treated them badly/And maybe a lover or two," Thompson sincerely confesses on a waltzing "Saving the Good Stuff for You," sounding as surprised as anyone that somebody tamed his troublesome ways. Providing anyone has the fortitude to use it in such a role, the country-styled ballad is destined to be the most honest wedding song ever written.
–Bob Gendron