posted: September 9, 2012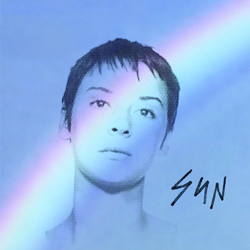 While it's only been six years since Cat Power, a.k.a. Chan Marshall, released her last album of original material, The Greatest, it sounds like well over 60 years have passed.
For the aforementioned effort, Marshall recruited musicians Leroy "Flick" Hodges and Mabon "Teenie" Hodges—the brothers who helped define Al Green's Hi Records sound back in the early 1970s—and set out for Memphis' Ardent Studios to record a warm, lush album steeped in vintage soul.
With Sun, the singer emerges from her time capsule and turns out an effort that sounds wholly modern, awash in bright, shimmering synths and stuttering drum machines. Indeed, it wouldn't be a surprise to hear rappers like Kanye West or Lil' Wayne spitting over a handful of these backing tracks on some future mixtape, which Marshall actually attempts on the closing "Peace and Love." She rhymes, "100,000 hits on the internet/But that don't mean sheeeit," stretching out that final word like an indie-rock Clay Davis. It's a bold change of direction for Marshall, whose fragile, insular reputation (for years, her onstage meltdowns were depressingly standard fare) is miles removed from the music here.
The idea of brushing aside the past repeatedly surfaces throughout the album. On "3, 6, 9," a snappy tune built around strutting piano and layered, auto-tuned (!) vocals, she sings of shaking the "monkey from her back." Then, on "Human Being," a kinetic number driven by plucked acoustic guitar and shuffling drums, Marshall lays out what could be the record's central thesis, singing, "We all got rules we all have to break." And if this means auto-tuning her honeyed, cashmere sweater of a voice, well then, so be it. Moreover, while past efforts are generally sparse, Sun is often dense and layered—even the vocals. At times, it sounds like a choir of Marshalls trade verses.
Highlights are numerous. Despite its title, the robotic "Silent Machine" is arguably the noisiest track, building to a wild, clattering finish. The vaguely Middle Eastern-sounding "Always On My Own," by contrast, arrives as a low-key spiritual tinged with atmospheric electronics. Best of all, however, is "Nothing But Time," an 11-minute epic Marshall reportedly penned for the teenage daughter of an ex. Here, atop a steady trickle of piano, the singer doles out motherly advice ("Never give away your body/Never give away your friends/Never give away what you always wanted/Never ever give in") in a warm, hypnotic voice, coming across like the world's most engaging life coach.
"Your world is just beginning," she coos as the song unwinds. "It's up to you to be like nobody." Listening to Sun, it's safe to say Marshall has taken her own advice
–Andy Downing