posted: April 7, 2014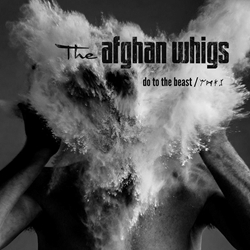 "You know me by now" softly repeats Greg Dulli in the midst of the Afghan Whigs' new noir showpiece "Lost In the Woods," his tone taunting, threatening, haunting, reminding.
Seeing the statement comes from one of the most charismatic and polarizing singers of the past two decades—a proud frontman whose vices and outspokenness continually inspire hyperbolic descriptions that ignore the subtlety and complexities of his persona—it does indeed seem audiences should be familiar with his moves, to the extent he's expected to live up to a mythologized Lothario status onstage and on record.
But nothing in Dulli's world is ever so simple or clear-cut. He's never adhered to expectations and, with Do to the Beast—the Afghan Whigs' first new record in 16 years—as evidence, isn't about to start. From major names such as Pixies to The Who, to novelty acts like Cibo Matto, the practice of once-disbanded groups launching Second Acts is as ordinary as a Starbucks opening on the corner. Yet with rare exception, career reboots usually result in disappointment once the allure of nostalgia fades away. Inspired to reunite after bassist John Curley joined Dulli at several solo shows in 2011, the Afghan Whigs mounted a critically acclaimed tour in 2012 that found the riveting live act in even better form than it displayed during its initial tenure during the 1990s. For closure, the band capped off the successful run with a New Years Eve show in its hometown of Cincinnati.
Three months later, however, the group's plans changed when it received an unexpected invite to play a special South By Southwest show with soul singer Usher. Original guitarist Rich McCollum opted out, but after the event, Dulli and Curley elected to begin recording again, aided by musicians and collaborators involved with Dulli's other bands (Twilight Singers, Gutter Twins). Because of the Afghan Whigs' stainless reputation, the decision arrives fraught with risk. Save for 1988's self-issued Big Top Halloween—a record the band quickly disowned—the band released five very-good-to-great albums, including 1993's Gentlemen, an inimitable work that stands not only among the decade's best efforts but as one of the most emotionally eviscerating and savagely primal break-up documents ever documented. Resurrecting the Afghan Whigs' name arrives loaded with considerable pressure to maintain such excellence and own up to expectation.
While 16 years represents an eternity between records, on Do to the Beast, several sonic and thematic holdovers serve as guideposts that link the band's past to its present. Dulli remains unpredictable—shifty in temperament, elusive in motivation, concealed by clever metaphor and the element of surprise. The band's distinctive soulful sound pulses throughout a majority of songs, with percussive backbeats steering the direction and grooves plucked from the depths of old R&B 45s prowling in the background. Betrayal, retribution, pain, loss, and deception run rampant. The dicey themes beget menacing environments in which Dulli often roams as a mercenary, unshackled from responsibility or guilt.
The absence of culpability marks a pointed shift from the band's earlier works that, however steeped in vitriol and blame, seldom witnessed Dulli entirely divorced from consequences and responsibility. Here, when at his most confrontational, the singer operates in complete control: a man bent on exacting vengeance on his own terms, and approaching subjects with a cool demeanor meant to prolong suffering, incinerate any suggestion of forgiveness, and instill deep-seated fear. At times, he saunters in and surveys situations much like a hardened Walter White in the later stages of "Breaking Bad," his former personality extinct and transformed into that of the merciless, seemingly immortal, and largely invisible Heisenberg.
On the revenge fantasy "These Sticks," Dulli pulls strings with cunning fearlessness and unforgiving intent, stalking his prey amidst tribal-drum thunder and explosive crescendos. He sets the trap, lays out the bait, and ensnares the victim in similar nonplussed fashion on the simmering "Matamoros," during which pronounced funk and Middle Eastern gypsy accents give way to an air-dropped hook and stinging outro that finds Dulli salivating as he admits, "I'm so excited you decided to come over/And beg."
Having kicked cigarette smoking in 2008, Dulli sings with more finesse, delicacy, dynamics, and soulfulness in his voice than in years past. On the tantalizing "Algiers," as unique a song the Afghan Whigs have recorded, a classic girl-group beat collides with a spaghetti-western melody and acoustic flamenco rhythm. Above it all, Dulli croons in a true falsetto, the dreamy highs and romantic smoothness contrasting with a whip-cracking guitar solo indicative of the tune's implied bloodlust, sin, and temptation. His singing goes off-leash in a different manner during "Parked Outside," a push-and-shove grudge match brewed with sexual friction, R&B swagger, and cathartic hard rock.
For all the musical resemblances to the Afghan Whigs' established sound, Do to the Beast unsurprisingly contains as many departures from it. As a whole, the album is guided more by mood and texture than guitars. Atmospherics and ambience provide the foundation to a number of compositions. Dulli's embrace of electronic and exotic strains in his other projects bleeds over here, as do increasingly dense arrangements and mixes. More than a dozen guests, including a memorable turn by soul singer Van Hunt, contribute. Packed with instrumentation and overdubs—sometimes to the point of overload—the record shares more in common with 1996's extravagant Black Love than the leaner Gentlemen and 1998's sweaty, celebratory 1965. The Afghan Whigs even reference the latter on "Royal Cream" via a mean, tempo-altering guitar riff straight from "My Enemy."
A scholar of music history, Dulli pays homage to multiple influences with faint cues throughout, ranging from the Stevie Wonder-like Wurlitzer on "Lost In the Woods" to the "wet" James Brown-fueled drum sounds heard on multiple tracks. Dulli's lifelong interest in film scores also surfaces on a few songs found on the album's back end that feel like slightly incomplete vignettes and more akin to ruminative solo work than Afghan Whigs music. The counterpoint balance achieved by McCollum's steady guitar playing is missed on occasion.
Still, such minor shortcomings become trivial when measuring the levels of songwriting consistency, quality control, and group chemistry attained on Do to the Beast. Free of easy nostalgia and open to bold ideas, the artistically vital effort puts the Afghan Whigs in rare company with contemporaries that never made a mediocre or disappointing record. More importantly, it signals a spirited creative evolution that even extends to Dulli's outlook.
Yes, he still thrives in the roles of sinister playboy and tormented lover. But in subverting these positions on "It Kills" and strongly hinting of redemption during "I'm Fire," he and the Afghan Whigs point towards something more rewarding than revenge served hot or cold—that of lasting emotional transformation.
–Bob Gendron