posted: February 26, 2014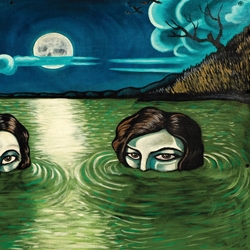 In his excellent new book I'll Take You There: Mavis Staples, the Staple Singers, and the March Up Freedom's Highway, veteran critic Greg Kot discusses the harmonic blend of styles that distinguished the late 1960s/early 1970s era Muscle Shoals sound from every other locale in America. (Full disclosure: Kot is a colleague of mine.) While multiple musicians gained notoriety for playing on records for the likes of Stax and Atlantic, few enjoyed more acclaim than the Muscle Shoals Rhythm Section (also known as the Swampers), which performed on sides from artists ranging from Etta James to Aretha Franklin.
While journalists occasionally note the connection, Drive-By Truckers frontman Patterson Hood seldom publicizes the fact his father, David, was an esteemed member of the celebrated session band. Such heritage and modesty come full circle on the Georgia collective's twelfth studio album. Soulful undercurrents inform a majority of Drive-By Truckers' works over the past decade, yet the group's link to the region's classic past has never been more obvious. A stripped-down intersection of gospel, rock, and country—and corresponding raw, loose, on-the-floor analog sonic character—bolster thirteen narrative-based songs rippling with dynamics, moxie, and fluid grooves.
In several ways, English Oceans finds the quintet returning to its roots by abandoning grander arrangements and honing more compact, primal structures. Given the members' ages, the effort unsurprisingly forgoes the reckless, punk-fueled mayhem of the group's youthful early albums and largely avoids the harder-rocking terrain pursued during Jason Isbell's tenure in the band. But the concentration of songwriting and vocal duties solely among co-founding mates Hood and Mike Cooley results in a laser-sharp focus and colloquial unity that have been somewhat wanting since Isbell departed in 2007. Just as important, there's considerably less sprawl and hopscotching between personalities. A retooled, scaled-down lineup translates into superior balance and rejuvenated chemistry. Departed bassist Shonna Tucker, whose contributions didn't always jive with the band's overall studio temperament, isn't missed.
As always, the Truckers' fundamental strength relates to the quality of their character-driven songs and barroom-born edginess. Longtime fans will note Cooley penned six tracks—double his normal output—and, for the first time, sings a Hood tune. The duo's lyrics remain grounded in unvarnished truths and everyday realities: situations and insecurities of working-class stiffs, personalities behind deceivingly simple circumstances, pointed reactions to modern political episodes, loving tributes to deceased friends, painful discords and bittersweet compromises of relationships. Cooley slings wise-ass humor, local accents, and clever one-liner wisdoms as if they're breakfast eggs; Hood serves tough-minded optimism alongside relatable tragedies. Few songwriters capture the kernel of mid-America with sharper detail, deep-seated sympathy, rugged dedication, and non-judgmental understanding.
Equally punctuated by greasy rhythms and treble-ringing clarity, English Oceans swings with R&B- and jazz-like purpose. The cozy, relaxed sway of the warm, piano-driven "Natural Light" and punchy, talk-out-the-side-of-the-mouth pulse on the gritty rave-up "Shit Shots Count" qualify as two of the best Cooley songs in the Truckers' canon—as well as two of his finest vocal performances. Hood's half-stepping, in-the-sticks country-soul "The Part of Him" and buzzing, free-flowing "Pauline Hawkins" straddle a tenuous equilibrium constantly under threat of tension that, on the latter track, finally bursts in the form of a rambunctious outro. From the yapping honky-tonk licks sparking "Hearing Jimmy Loud" to the delicate acoustics of the whistling "Hanging On" and rolling-hills contours of the momentous farewell "Grand Canyon," the Truckers haven't sounded so unforced, effortless, and fluent in years. Papa Hood should be proud.
–Bob Gendron