Bassocontinuo Stands – Italian Fine Art!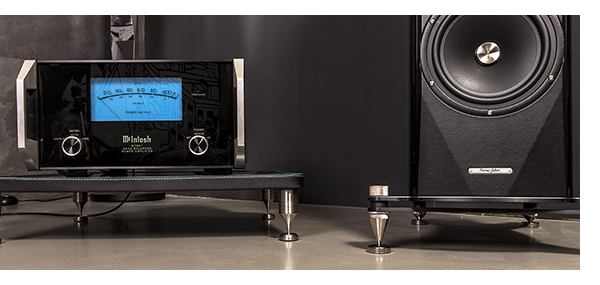 Article by Greg Petan
What's Italian, made of carbon fiber, wrapped in hand stitched leather, offered in a variety of colors and finishes and downright sexy to boot?
A Ferrari 488GTB? A Lamborghini Hurican? Yes, and yes. So are the new EOS 2.0 amplifier stands by Bassocontinuo, the Italian manufacturer of custom audio racks and amplifier stands. While this may seem like a stretch of a comparison, it's really not. Upon close examination of the fabrication, fit, finish and the refined design of the fully customizable Bassocontinuo EOS 2.0 amplifier stands, you will see far more in common with the prancing horse and charging bull's approach than not.
In 2008, with eight years in the fashion industry in Bergamo Italy already under his belt, Mr. Lorenzo Belloli, (the founder of Bassocontinuo) applied his design sensibility, taking on the challenge of manufacturing component stands, where he felt there were no good looking and sounding options. A decade later there are five lines within the Bassocontinuo range each with subsets of available products and options. Ranging in price from $1,380 – $16,000 and beyond, there is something for nearly any system, limited only by your imagination.
Used exclusively at the World of McIntosh townhouse, the striking design of the B line racks captivates with its stainless steel support pillars and contrasting hand stitching and colored leather coverings. Again, everything is customizable to your taste.
Unpacking the EOS 2 stands, you might be surprised by the light weight. Using a monocoque design like a Formula 1 car, this X support is simple and strong. Four small round, rubber pucks interface between the leather clad composite shelf, offering an additional layer of isolation. Large, flat-bottomed stainless steel footers are threaded in place. 15 minutes later, my Pass Labs XA200.5 amplifiers had new, stylish perches.
Performance you can hear
Like those famous Italian automobiles, Bassocontinuo products are more than just fancy design and exotic materials. The elements come together, adding up to demonstrable performance. Each stand is tested, with printed results showing the reduction in vibration is included in the package.
A more focused and clearly delineated sound stage, with more precise imaging is instantly apparent, and it merely took placing the Pass amps back on the floor and repeating a few tracks to hear the effect. Music played becomes more sure footed, yet relaxed at the same time with cleaner transient attack.
At $2,060 per stand the Bassocontinuo EOS 2.0 are not inexpensive, but no fine furniture or exceptional audio component is. You can easily burn through 2 grand on a set of wooden or metal isolation cones alone, never mind the beguiling level of fine materials, design and craftsmanship offered by Bassocontinuo's EOS2.0 amp stands. By contrast, that makes these platforms a steal.
Bassocontinuo's approach is unique in the world of audio furniture, giving aesthetics deeper consideration than most. Constructed from hyper car materials and offering real measurable performance, you can have the best of both worlds; performance and beauty. With the ability to customize your stand to match the finishes in the cockpit that is your listening room, your bespoke stand will excite both your ears and your eyes.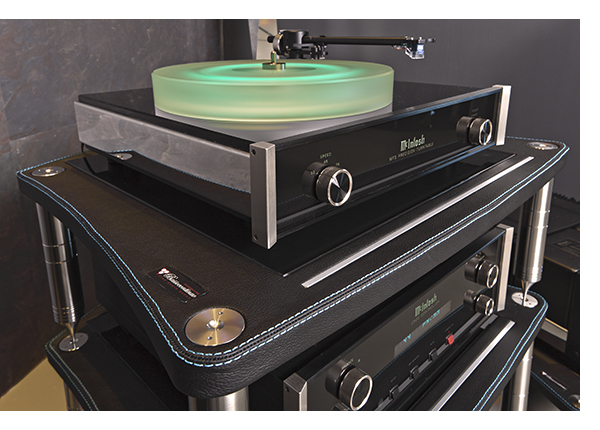 A quick chat with Lorenzo Belloli
Greg: What did you do before Bassocontinuo?
Lorenzo: I was in the fashion industry for 8 years as a designer and sales manager.
Greg: Did it prepare you for what you are doing now?
Lorenzo: This is a nice question: yes and no. I had a background as manager in other industries (medium size companies), before starting in fashion. This surely helped me to open my mind and inform my views. I was lucky during my early years (from 1993 to 1999) having the chance to touch upon several facets of business such as marketing, sales, financial control etc. Of course, you're not completely prepared because every day you have a different challenge but the experience has proven very helpful.
When you have your own company it's a different experience. Your company, your brand, your products (especially if you design them) are a sort of baby… your kids… and when you're seeing them to grow year by year and you achieve success in the high end, it's a really satisfying! In any case I never expected to bowl over the world and see my products in almost forty countries.
Greg: Why did you tackle this sector of the industry? Why Racks? How long have you been an audiophile?
Lorenzo: When I was young (18-19) audio was my hobby. I remember the emotions when I got the money to purchase a second-hand Mark Levinson n° 29. During 2007 a friend of mine asked me to follow him on a "dealers tour" to purchase a rack for his new hifi system. After five pilgrimages and much bad feedback (the racks sold were always too small, too ugly, too expensive, to cheap, etc.) I said: why we don't we try to design our own rack… as a joke… and as a hobby again…
I liked the final result; but of course, If I look at that prototype now, it's unbelievable how terrible it was…
After this first attempt we decided to attend at an Italian show (the Top Audio show we had for more than 25 years in Milano) and founded a very small company. Two – three models only, a couple of finishes but a lot of enthusiasm! We immediately won the design award for the model Accordieon. It was my first step… one year later, this friend left the company and my sister joined it. From then up to now seven years passed so quickly and we have made a lot of great things in this time.
Our goal is the full modularity/flexibility into our products. We like to say your rack should follow your audiophile route.
At the same time, we introduced the bespoke design idea into this market. I think our products have a sort of charm, the "sexy curves" and the huge quantity of combinations, create a sort of appeal never saw before into the racks.
Greg: Are you a musician?
Lorenzo: No, I'm not a musician, I have a big passion for music, especially for Classic-Baroque (Bassocontinuo brand name was selected for that reason) and Heavy Metal (Metallica, Iron Maiden etc.).
Greg: How many people work with Bassocontinuo?
Lorenzo: We have around twenty suppliers and four full time employees in the company, including me. We remain a very small company, because most of our production processes are done by outside contractors. We selected the best suppliers in our area (wooden workshop, painter, turner, carbon fiber etc.). They're like partners now, they joined "the family" and are married to the projects.
Greg: And what is the very best part of the job?
Lorenzo: The biggest satisfaction is to read in magazines about my products/brand. The same magazine I read when I was young… simply incredible! But the most important thing? I love my job; I love what I'm doing!
For more info, go to www.bassocontinuo.biz