Channel Islands new Transient USB Converter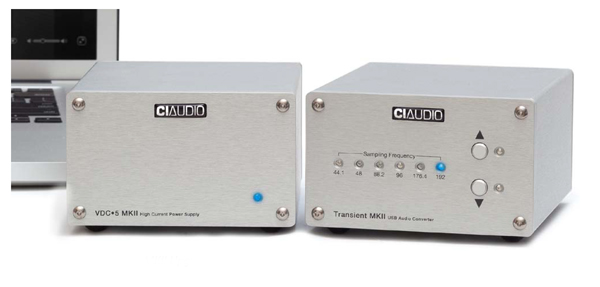 Channel Islands has just announced the release of their new Transient Mk.II Asynchronous USB converter, with a retail price of $699.
With sampling frequencies up to 24bit/192khz, it also can be used as a USB DAC with analog outputs in addition to the SPDIF and I2S digital outputs, utilizing a Wolfson circuit.  Highest quality parts are used throughout:  Nichicon Muse and 2% polypropylene power supply capacitors, Takman resistors and WIMA capacitors, along with Canare BNC connector round out the parts count.  The shielded anti-resonant chassis is 1/8″ thick T6061 aluminum with a 3/16″ thick front panel and all hardware in non-magnetic stainless steel.
The Transient runs off the grid, powered by your computers USB bus, so you can take it with you.  The VDC-5 MKII upgraded power supply can be added to the DC port for improved performance as well.
Contact Channel Islands for more info and product availability:
805-984-8282