New Kickstarter Campaign Update
May 5, 2015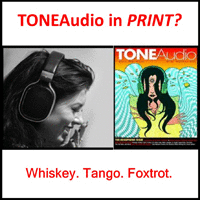 Wow! Thanks everyone for their support. TONEAudio's new Kickstarter campaign has been up only two days, and we are nearing 25% of goal.  If you are willing to help spread the word we will greatly appreciate your help. An easily paste-able link to the campaign page is below. If you haven't had a chance to check out the campaign page yet, please do. For a tiny pledge of $8 we'll send two print issues to your door. At a mere four bucks each, it's like buying a latte. Except a 250+ page latte. Okay, that's perhaps a poor metaphor, but you get my point. You can read a coffee cup in five seconds. But TONEAudio magazine can provide hours of reading joy. They say you can't buy happiness, but we're trying our best to make it possible. That's how we roll at TONEAudio.
https://www.kickstarter.com/projects/toneaudio/new-get-two-print-issues-of-toneaudio
Many thanks for your help!
Rob Johnson, managing editor