Threshold CAS 2 Power Amplifier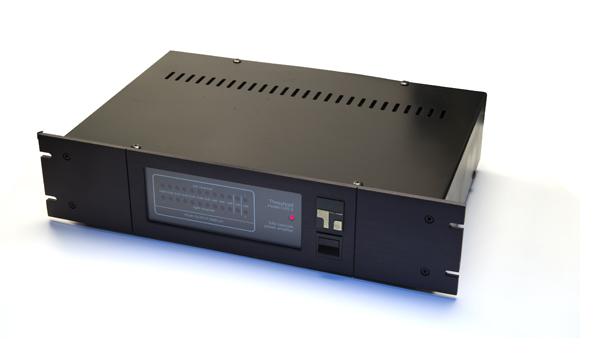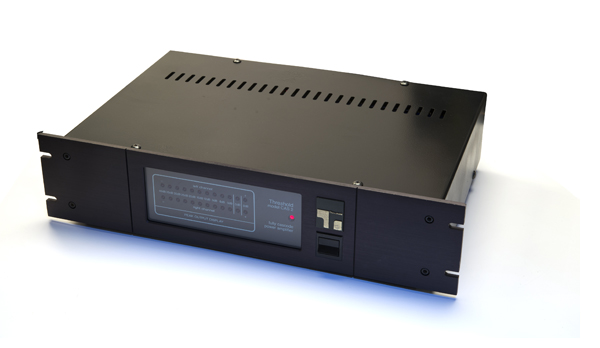 Nelson Pass has never been one to hang his hat on just one type of amplifier topology.  During his time at Threshold, Pass Labs and First Watt, he always pushes the envelope in what can be achieved in solid state amplification.  He was one of the first to popularize Class A amplifiers in the 1970s when most manufacturers were striving for massive power output, and the Threshold 400A and 800A were landmark designs.  The Stasis amplifiers that followed, sought to satisfy those wanting higher power output while retaining the musical qualities of Class A.  I have many a fond memory of listening to Stasis amplifiers on the high end speakers of the late '70s and early '80s.
Pass continued his quest for better and better solid state sound when he formed Pass Labs.  The early Aleph models with their odd but functional cosmetics have stood the test of time well with their glorious sound quality – and they are still highly coveted.  At this year's Consumer Electronics Show Pass pushed further with the introduction of a pair of extremely limited edition Vfet amps which were shown in the SONY suite.  I'm not the only one who remembers how impressive SONY and Yamaha Vfet amps sounded when they were first introduced and these were glorious.
The subject of this article is one of Nelson's lesser-known models, the CAS 2.  This amp was manufactured along side some of the Threshold Class A and STASIS models from 1979 to 1981.  It came to be manufactured as the result of a white paper that Pass wrote about cascode circuit design. This design seeks to offer similar results to pure Class A operation but without the high cost of such designs. In essence it seeks to achieve a lack of signal compression by eliminating nonlinearities in the power transistors due to voltage changes in the circuit.  The result gives one very low distortion and very wide bandwidth. I guess one could refer to this circuit topology as a "proto" Stasis design.  In its day, this was the amp to buy if you couldn't afford a 400A.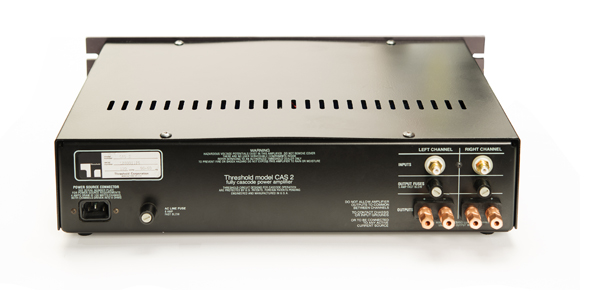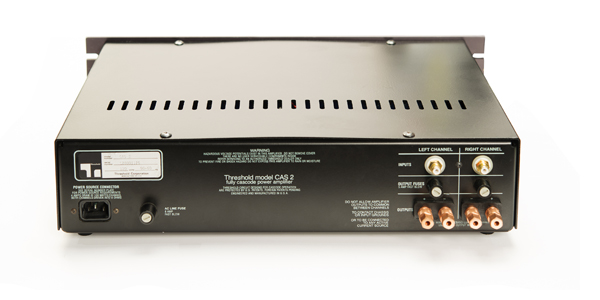 The technical highlights of the CAS 2 are as follows:  full dual mono design, twelve high-speed output devices per channel, stout power supply and high current capability.  It delivers 125 watts per channel and rated distortion is a mere 0.03%. Weighing in at a hefty 28 pounds, the CAS 2 is relatively compact and it features the double row of LED power output indicators, which you will either love or hate.  Our publisher and I have been arguing this over many a pint since the day these amplifiers were introduced – he loves em, I hate em.
Jay Leno says "you don't find the cars, the cars find you."  And so it goes with vintage hifi equipment. I came by this example almost by accident and for a very low price. It was a bit rough around the edges and obviously had never been cleaned or serviced.  Nevertheless, I put it into the system to find out what I had stumbled upon. After a requisite warm-up I soon got what the fuss is about. It produces a big sound stage with a fair degree of transparency.  I did detect a bit of haze in the treble region and a some roughness in the bass region but my suspicions were that after thirty plus years since being manufactured, some parts were probably past their prime. Excited with the first listen, I immediately shipped it to Jon Soderberg of Vintage Amp Repair in Citrus Heights, CA.  Soderberg has a reputation for working wonders on old Threshold amps,  and indeed he worked wonders on this one. In addition to the usual replacement of all capacitors and output devices, we did a bit of tweaking and upgrading in the form of Cardas billet copper speaker binding posts, Cardas rca connectors and Audience pcocc internal wiring. While he had the hood up I all but the 0dB and above LEDs which now only indicate the onset of clipping. In addition, I did some chassis and casework damping.  Our publisher gave out a heavy sigh when I told him of this during the photo session.
I was pleasantly surprised returning the CAS 2 back into the system. The soundstage and transparency that I mentioned earlier were enhanced even further, the treble haze was gone, replaced by a pristine even-handed quality. The lower register was equally satisfying: the roughness in the bass region had been replaced by detail and grip.  I let it burn in for a week before I did any critical listening.
As I did listen, it became increasingly obvious that this amplifier is something special. No matter what I threw at it, it never put a foot wrong nor was it completely overshadowed by some serious competition on hand. My reference Coda S-100 and the Burmester 911 on loan from the mother ship provided different sonic flavors and bettered the CAS 2 in some areas. The Coda exhibits a sweeter mid treble and has a slight edge in the air around instruments. The Burmester is warmer in overall character and has more control in the mid bass area. However, while listening to the Threshold, I never felt compelled to substitute one of the other amps, I merely appreciated it for what it could do.
Since the soundstage was so big, I tried a lot of big music. First up was Rachmaninoff Symphonic Dances (Eiji Oue, Minnesota Orchestra, Reference Recordings).  The massed string sounds were sinewy and muscular while horn sections were presented with authority.  Similarly, Mephisto & Co. (Same conductor orchestra and label) with its multiple crescendos provided that orchestral wallop which can cause some amps to fall apart. Not so the Threshold even though I managed to light the clipping indicators a few times. The CAS 2 never sounded strained or out of control.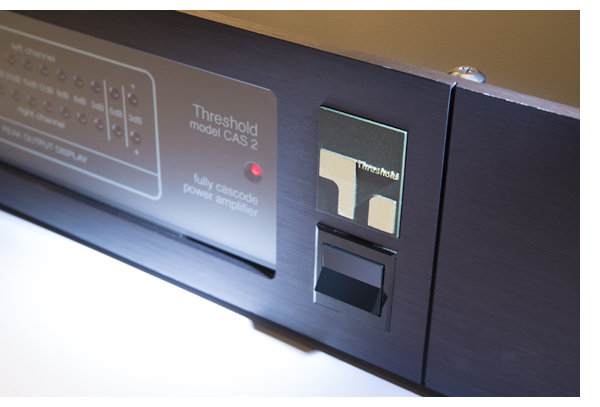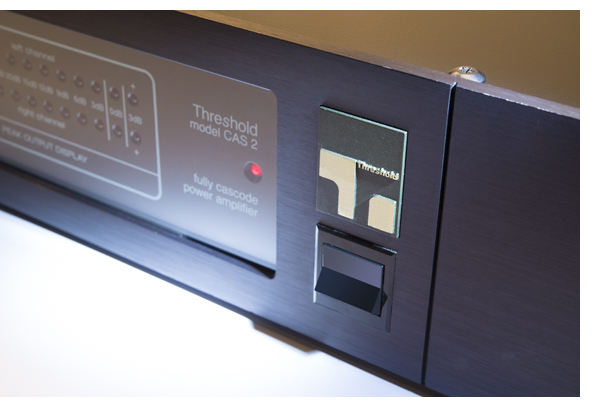 Moving on to a pop vein, I tried Prince's N.E.W.S (NPG). The punishing horn inflected funk on fourteen minutes of "South" gave the CAS 2 a workout but it plumbed the bottom with forceful abandon.  This managed to get the CAS 2 fairly warm, but never hot, a testament to its fundamental design.  And while we were getting funky, Liquid Soul's "Sure Fire One" from the album Here's The Deal (Shanadie) with its polyrhythmic blend of rock, soul, rap and funk made my whole household want to get up and party.
Jazz recordings sounded equally fine with the Threshold in the system.  On McCoy Tyner's  "Three Flowers" from the album Today And Tomorrow (Impulse!)
Tyner's piano sounded crisp and clean while the cymbal work of Elvin Jones either shimmered with delicacy or splashed with force.  On "Root Down ( and Get It )" from Jimmy Smith's Jimmy Smith Live! Root Down the Hammond B3 sound is unmistakable and the attack of Buck Clarke's conga set is fast, meaty and percussive.
I feel lucky at having acquired this amp.  I didn't know what to expect from it but now that it's in fine fettle, I'm keeping it. For the mere $1,200 invested, it can stand in at a moment's notice when I want to hear something a bit different from the system. Moreover, the basic design is such that it'll probably last another thirty years or so.  In an era of near class D preeminence, good old fashioned heavy metal amps certainly have their place, especially ones with ground breaking design parameters. This model along with the CAS 1 (featuring 75 w/ch ) are out there but a bit hard to find.  If you're looking for innovation from the past, look no further.  Now to find a Pass-designed preamp to go with it.  — Jerold O'Brien
Resources:  www.vintageamprepair.net https://passlabs.com/articles/cascode-amp-design