posted: October 10, 2012
Neil Young and Crazy Horse
Psychedelic Pill
Reprise
3-180g.LP, CD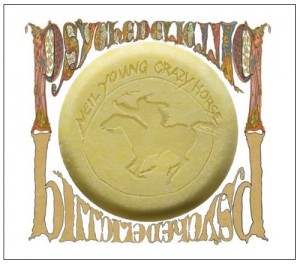 Neil Young and Crazy Horse's first new studio album of original material in nine years gives a symbolic middle finger to modern convention.
Its length is sprawling, its surrealist first song occupies more than 27 minutes of time, and its lyrical content casts aspersions on the present and embraces the past. It is the opposite of the digestible sound-byte fare dominant on the very FM radio band that once championed Young. It is a stubborn and curmudgeonly statement in no hurry to go anywhere, and feels nary an obligation to apologize for its imperfections. It is the unmistakable sound of an artist doing things on his own terms and caring not an iota if he doesn't make everyone happy. It is noisy, raw, loose, off-the-cuff, spontaneous, and blatantly out of step with what's often perceived as progress. It is alternatively indulgent and lean, nostalgic and contemporary, humorous and serious, unscripted and planned, frustrating and engaging, simple and complex. It is everything one might expect a get-back-into-the-shed Crazy Horse record should be, and then some, and is likely to irritate the listeners that doubt the performance abilities of Young's longtime garage-rock mates.
Approached on its own terms, Psychedelic Pill is also another master stroke from an icon who, nearing 67 years old, could sleepwalk through the remainder of his career rather than continue to take bold risks and potentially antagonize—even alienate. But Young has never been about playing it straight, and of late, whether on record or in print, he's rarely seemed more fiery or outspoken.
"When you hear my song now/You only get five percent/You used to get it all," Young laments on the opening "Driftin' Back," an aptly titled epic that nods in and out akin to a fever dream, and whose reflective themes resonate throughout the album. Coming on like a sonic tour of the Old West before settlement tamed the lands, the arrangement revels in spaciousness, with Crazy Horse's natural give and take contributing to a meditative vibe. Slow, droning exchanges occasionally threaten to stop, almost daring the listener to continue on the journey. Young's lyrics appear as if developed on the spot, as the tape rolls. The relaxed pace functions as a hallucinogenic, a drug conducive to Young what comes to his mind—just as if he were sitting on a couch in a shrink's office.
Conversational rhetoric in the form of recollections, comparisons, and memories consumes Psychedelic Pill, in myriad ways the sonic accompaniment to Young's Waging Heavy Peace, a nonlinear autobiography/confessional tome as honest, freeform, creative, and unpredictable as any music book since Bob Dylan's Chronicles Volume I. Having intiially mentioned the idea in "Drifting Back," Young returns to addressing his "inner rage" on the personal "Born In Ontario," a country-tinged rambler during which organs double as fugue-like horns and the narrator searches for roots, grounding, and understanding amidst perpetual change. Such elements have forever consumed Young, and in his refusal to settle—as well as welcoming of old cohorts to create catchy, vibe-based, fireplace-warm rock n' roll—these topics are as vital as they were when he invoked them more than four decades ago on "Old Man."
Only now, Young is the old man, a fact he not only recognizes but confronts via traipsing through emotions, ghosts, accomplishments, and shortcomings. The punchy, clever, and concise "Twisted Road" pays homage to Bob Dylan, the Grateful Dead, and Roy Orbison, with Young mentioning all by name and crediting their staggering influence on his life. It's one of the many extensions on Psychedelic Pill of the excellent "Days That Used to Be," a paean to bygone times and pals Young and Crazy Horse cut on 1990′s Ragged Glory. Yet, unlike so many records made during the last few years by aging artists in full-on look-back mode, Psychedelic Pill never preaches, offers grand pronouncements, elicits cheap sympathy, or lectures through rose-colored glasses. Rather, Young's chemistry with Crazy Horse arrests the senses. The foursome anticipates each other's moves, responding to nuanced details and stoking mesmerizing grooves with guidance provided by what Young deems in Waging Heavy Peace as "the Spirit."
Such interactions, and the quartet's 43 years of playing together, combine to drive "She's Always Dancing" to a point where chords and harmonies conjure out-of-body  experiences. The song is automatic, easygoing, liberated—the mental and physical states of the protagonist. Young also burrows into the minds of a longtime husband and wife on "Ramada Inn," a loping relationship tale whose developments, fates, and circumstances resonate with nonfictional veracity. It's this compassion—and Young's optimist-realist belief that love still conquers all—that makes his songwriting profoundly human and his guitar playing—its subtle growls and fluid distortion underscoring tension and uncertainty—the ultimate complementary poetic device. Once again, Young is bent on finding out what answers and advice the past's glowing embers can lend to comprehending the present and future. What he discovers isn't always comforting.
"I used to walk like a giant on the land," boom Young and Co. on the closing "Walk Like a Giant," a storming tsunami that earns its mastodon-referencing name and immediately stakes its claim as the biggest-sounding track Young and the Horse recorded since "Like a Hurricane" (in many ways its sibling). A whistled melody and huge, ribeye-thick rhythmic footprint underpin the anthemic arrangement. Young's moaning, grumbling riffs and the Horse's wordless doo-wop-style backing vocals dance hand-in-hand. The guitar solos find Young in hunkered-down position, bent over his instrument. Yet the ragged-and-torn condition of his vocals register equal impact.
"Think about how close we came," he bellows, contemplating he and his friends' hippie dream to save the world and now, recognizing their diminished place in it. Humility, time fading away, and the acknowledgement of rust's refusal to sleep have rarely sounded so genuine and passionate.
–Bob Gendron