posted: May 22, 2012
Neil Young and Crazy Horse
Americana
Reprise,
CD or 180g 2LP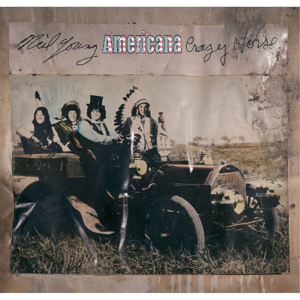 Neil Young's electric guitar jabs, retreats, and then stabs again, frayed-wire distortion coating the clusters of notes, the intensity evoking images of a fire-eyed preacher determined to spur his congregation to sit up and take notice. There's talk of killing a big red rooster, proclaiming "hallelujah," and celebrating with a communal gathering. Young's longtime Crazy Horse mates stomp and clatter, giving the traditional tune a unified drive that turns it into an Indian war dance, the refrains doubling as dead-man's curves as the insatiable momentum tumbles forward.
No, the children's song ordinarily known as "She'll Be Coming 'Round the Mountain"—named "Jesus' Chariot" here in tribute to its Negro spiritual and salvation-based origins—has never sounded quite like this. It's one of eleven folk songs Young and his inimitable backing band reinterpret and upend on the impossible-to-ignore Americana, a thematic album exuding immediate relevance and forceful contemplation.
Never shy about making bold political or civil statements, Young brilliantly borrows songs from the U.S.' historical fabric and tosses them as live grenades that explode on impact, broaching the staple concepts—freedom, liberty, justice, equality, rights, conflicts, privacy, the common good—on which America prides itself. He and Crazy Horse invoke these broad subjects without advocating one party or another; Americana owes some of its political and cultural potency to its impartiality.
Unlike previous albums (i.e., Living With War) on which Young's made unequivocal statements, there's no jingoistic intent, no direct order, no heavy-handed suggestion to take a potentially alienating stance. Rather, Americana is unambiguous social commentary by way of clever intimation, structural adaptation, and shared experience—tenets tied to folk music's definition and purpose, and to the familiar songs here transmitting myriad messages and challenges. Unlike other artists that chose to rail against current problems by releasing obvious and stern protest fare, Young and Co. assume a discreet approach, handpicking material ("Oh Susannah," "High Flyin' Bird," "Wayfarin' Stranger") that lacks loaded meaning.
These old murder ballads, folk tales, nursery rhymes, and drifter fables communicate between the lines. Their lyrical simplicity reveals issues of class warfare, worker compensation, rampant unemployment, labor conditions, responsibility, public ownership, burden and benefit, military combat, inclusiveness, and independence—matters that in today's deeply divided America are debated and questioned as fiercely as during any time in the past. Several selections, such as the raggedly glorious doo-wop garage-rock romp "Get a Job" and hayseed ramble amidst the barn-dancing "Travel On," convey points via a frisky humor and carefree attitude that better disguise the topical matters. Americana doesn't pretend to have the answers, but it's in the thick of igniting a balanced, cordial, and crucial conversation, sparking dialogues about identity and direction.
While Young and Crazy Horse wisely evade stamping the arrangements and deliveries with stony-faced seriousness, usually opting for a loose, fluid playing style and raw, in-the-room vibe, weighty drama and impending death ripple through a wind-whipped "Clementine" (complete with an unexpected plot twist pulled from early versions) and crackling "Tom Dula," the latter clinging to a rhythm that droops just like the protagonist's head—once he's hung. The nearest sonic reference to the groove-reinforcing manner in which Young and Frank Sampedro's guitar chords roll akin to waves washing up on the shore, and to the alternating currents of barbed sharpness and crunchy feedback Young conjures from fills and solos, arrives via the same lineup's take on "Farmer John" from 1990's ageless Ragged Glory.
Save for the more polished send-up of "Gallows Pole," a similarly rich and country-rock-reared aural palette echoes here. Recorded on a Universal Audio tube console and to Studer two-inch eight-track analog tape, thick chords and rough-and-ready riffs hang, wander, growl, gurgle, and toss around in the dirt; drum beats smack and slap like wet towels whapped against a cement wall. Everything, save for several well-placed choir vocal passages, is captured in the moment, fortifying Americana as the sound of a real, live band performing in a real space. After the collective's nine-year hiatus, the dynamic is refreshing and reinvigorating to experience once again, even if it's now been in commission for four-plus decades.
And yet Crazy Horse and Young's aural vigor all feels new again, particularly given the record's urgency and bold extension of tradition, expounded by educational and explanatory liner notes that accompany each song. Young also penned a few words to explain the significance behind the artwork. No elucidation, however, is necessary to empower the music, or what's at stake on a white-lightning-soaked rendition of "This Land Is Your Land" and proudly marching "God Save the Queen." On the latter, the band merges the de facto British anthem with melodies and lyrics from "My Country 'Tis of Thee." It's genius pairing that, in this, the centennial year of folk giant Woody Guthrie's birth, sounds a call to let freedom ring, loudly.
–Bob Gendron