posted: December 25, 2012
Bob Gendron's Fave Box Sets for 2012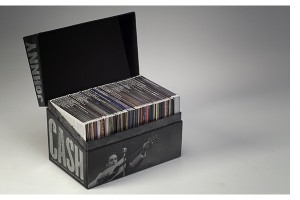 Evolution by way of specialization. Following the same patterns driving craft beer and farm-to-table gastropubs, most 2012 box sets targeted specific audiences rather than general listeners.
And they're better for it. Recognizing that the era during which the public willingly shelled out for multidisc career anthologies and lavish greatest-hits packages is gone—as well as the fact that nearly every deserving artist already received such treatment—labels catered to hardcore fans of specific performers and genres.
While the strategy means fewer coffeetable-worthy collections exist than in years past, most green-lighted sets claim a quality, elaborateness, and comprehensiveness rarely seen just several years ago. Not surprisingly, fewer labels are making them. Rhino, which once released several titles per month, has all but exited the market. A force for decades, Sony Legacy now reigns as the undisputed king of box sets.
With niche marketing holding sway, the line between essential and appealing has increased. Several hyper-specialized sets qualify as irresistible curiosity items aimed at discrete tastes. Not that some of these boxed volumes aren't worth seeking out. Watain's Opus Diaboli (black metal and underground fans, rejoice); the wonderfully packaged Grateful Dead Spring 1990 (five concerts documenting one of the collective's last well-regarded tours constitute bliss for Deadheads yet aren't the place to start for casual fans); and the Tompkins Square label's Work Hard, Play Hard, Pray Hard: Hard Time, and End Time Music 1923-1936 (a three-disc volume of obscure country and folk drawn from the library of a Kentucky collector) warrant exploration.
Vinyl boxes? We cover and recommend the Beatles' Stereo Box in Issue 50. Analog lovers can also discover rewards by way of the Blur Vinyl Box Set (contains each of the group's seven studio efforts, and the first five LPs are remastered from the original source material); the Velvet Underground's The Verve/MGM Albums (mono versions of the band's first three efforts, plus more, but you'll deal with inferior packaging); William Basinski's The Disintegration Loops (wordless music and metaphor at their ultimate); and, for collectors, crate diggers, and soul aficionados, Numero Group's massive Omnibus 45 Set (a trove of 45 rare and unique 45RPM soul singles).
Be certain, however, to save shelf space for the following—the "great eight" box sets of 2012. Whether celebrating iconic albums, bringing to light time-capsule performances, or making a strong case for the increased historical merit of an artist, they offer insight, context, purpose, extraordinary music, and first-rate packaging. (Prices reflect suggested retail; in almost every case, titles can be found for much cheaper.)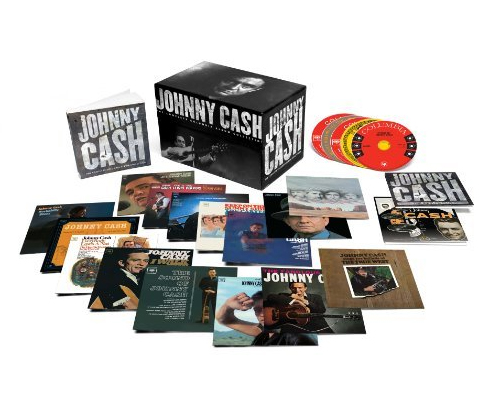 Johnny Cash
The Complete Columbia Album Collection
Sony Legacy, 63 CDs
$325
Sixty-three CDs by any artist equals a daunting number. Even for Johnny Cash. Amassing every single last one of the Man In Black's albums for Columbia—including 35 never before released on disc in the U.S., and his first 19 titles presented in mono—this heavyweight contender spans 1958's The Fabulous Johnny Cash through 1986's Heroes (with Waylon Jennings), and also encompasses both Highwaymen efforts and two new, expertly assembled compilations. Overkill? Not, as it happens, when Cash is concerned.
Save for Bob Dylan and Ray Charles, no other single musician touches on so many styles with such authority. Cash's commercial success afforded him license for multifaceted thematic albums, and whether delving into gospel, American Indian ballads, western fare, rockabilly, traditional folk, patriotic hymns, holiday jingles, or children's tunes, he does right by them all. Is every attempt a classic? No. Even the greats occasionally miss the mark. Yet, by and large, what's here boggles the senses. Apart from the nearly impeccable string of releases stretching from '58 through '70, pay close attention to 1973's live Pa Osteraker, 1974's John R. Cash, and the pre-American Records entry Johnny 99, an album that suggests Cash ready for his comeback but without an influential power broker in the form of Rick Rubin to secure him an audience.
The Complete Columbia Album Collection accomplishes a multitude of feats. None are larger than begging a looming question: Does Cash, given the diversity, scope, and quality of music produced over this roughly three-decade period, stand taller than former labelmate Elvis Presley? The answer seems to lean towards the affirmative. Cash may not have Graceland or the built-up myths, but then again, this champion of freedom, justice, peace, and equality isn't the type of hero that needs a postage stamp to solidify his legacy. Courtesy of this project, a re-evaluation of rock music's preeminent figures is in order.
Situated in chronological order in a flip-top box, the CDs are housed in mini-LP replica sleeves with original artwork. A fat, 200-page book contains pertinent details and 5,000-word essay. Seminal.
Codeine
When I See the Sun
Numero Group, 3 CDs/ 6 LPs
$80
Considered by myriad music aficionados the best reissue label in the biz, Numero Group established its sterling reputation by way of rescuing from the dust bin largely forgotten-about regional soul, gospel, and pop. With rare exception, the imprint's finds usually date from the 60s and 70s, and boast eccentric backstories. Meticulous liner notes accompany every release, as do a plethora of surprises. The label's first venture into rock involves a band only slightly more well known to general audiences than many of its R&B-based titles, but one that's magnificently important.
The first artist signed to Sub Pop that completely deviated from the "grunge" aesthetic, Codeine enjoyed a relatively short existence before its members, concerned they'd slide into less-than-perfectionist standards if they soldiered on, called it a day. The trio's meager output—two full-length LPs, one EP, and a handful of singles produced over the course of roughly four years—nonetheless garnered the attention of both the indie and mainstream press, which, akin to the collective's peers, marveled at its dirge-like tempos, introverted heaviness, and time-defying restraint.
Aptly named, the group employs unhurriedness as a numbing agent. Conveying themes of detachment and deficiency with stoic poise, vocals are seemingly devoid of emotions unrelated to despair or disappointment. Distorted, gunmetal-gray guitar swells droop and hang like opaque curtains, while the band's secret weapon—frill-free percussion that moves s-l-o-w albeit sprawls across vast canvasses—freezes everything in place. The sonic hybrid stood apart from metal, industrial, goth, or anything else of the time. Songs are oddly beautiful and surreal, euphoric and calm. Codeine carries the minimalist, barren aesthetics over to the album covers. Dim stars rest against a desolate white backdrop; a grand European palace and gardens, so enormous they appear isolated, suspend reality; a birch tree hibernates in winter.
Supplementing the complete studio output, demos and unreleased fare on Numero's opulent box aurally disclose Codeine's music wasn't as easily to make as it sounds to the naked ear. Each cut is cause for greater reflection and appreciation. Three essays dig beneath the band's surface history. Every significant underground artist should be so lucky to have its own version of When I See the Sun.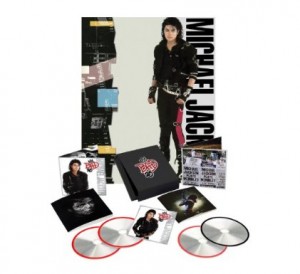 Michael Jackson
BAD: 25th Anniversary Edition
Sony Legacy, 3 CDs/1 DVD
$40
No artist in history has ever felt what it must have been like for Michael Jackson to follow-up their sophomore album. That's because no studio set has ever sold in such vast quantities as 1982's Thriller. After sweeping the Grammy awards and piling up 25-plus million in sales in the U.S. alone, what does one do for an encore? No matter what he created, Jackson could've never pleased everyone or met expectations.
Long lurking in the shadows of its ubiquitous predecessor, BAD is placed in a renewed context thanks to this opinion-changing reissue. Augmented by a disc of standout B-sides, demos, and rarities—and a DVD containing Jackson's July 16, 1988 concert at Wembley Stadium (audio contents are replicated on a CD)—the multimedia set eradicates previous criticisms suggesting the record a calculated imitation of Thriller, albeit one with more modernized arrangements.
Revisiting songs such as the anthemic title track, inward-looking "Man in the Mirror," metal-flirting "Dirty Diana," and, particularly, the rhythm- and gravity-defying "Smooth Criminal" reveals Jackson as his era's Michael Jordan. He's a five-tool pop perfectionist that not only wants to dominate the field, but crush the competition. Sure, there's no rescuing the duet with Stevie Wonder ("Just Good Friends"), but the sleek combination of dance grooves, rock drive, and R&B beats throughout come across as having not lost an edge.
Slightly drab on CD, the concert reaches fever pitch on DVD. Jackson's dancing and choreographic displays remain marvels, and the era's iconic fashions conjure a communal feel absent from much of today's scene. Two full-color, photo-filled booklets round out the celebration.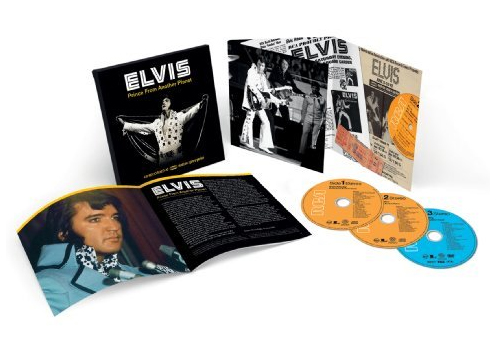 Elvis Presley
Prince From Another Planet
Sony Legacy, 2 CDs/1 DVD
$35
Taking its name from a New York Times headline trumpeting a review of Elvis Presley's four sold-out shows at Madison Square Garden in early June 1972, Prince From Another Planet amasses in newly remixed form the previously issued An Afternoon in the Garden and Elvis As Recorded At Madison Square Garden, along with a DVD touting previously unseen handheld-shot footage of the afternoon concert. As box sets go, it's rather compact. And while these shows represent Presley's first-ever public gigs in New York City, history alone doesn't justify the collection. What does is the fact that it spotlights a pair of incredible performances during a time many believed the icon to have already passed into cartoonish "Fat Elvis" form. Not so.
Aided by one of the greatest support groups to ever grace a stage—the TCB Band, counting guitarist James Burton, drummer Ronnie Tutt, and bassist Jerry Scheff among its ranks—as well as several backing vocalists and an orchestra, Presley blitzes through a heterogeneous repertoire with pronounced command, blinding speed, tangible enthusiasm, and almost-vengeful determination. On classics such as "Hound Dog" and "That's All Right," tempos are almost doubled, the musicians keeping up with their leader's every insinuation to push ahead with rabid intent. Presley barely pauses to catch a breath, and the wildly divergent setlists afford no easy outs. Grandiosity—Presley enters to Also Sprach Zarathrustra, pitches impassioned takes of "An American Trilogy" to Mt. Everest-like peaks, and ups the drama to soap-opera heights on horn-soaked readings of "You've Lost That Lovin' Feelin'"—conveys the impression that royalty truly presided over the affairs.
Forget the '68 Comeback Special; no official live Presley release tops the commotion, frenzy, sweat, and adrenaline here. A vivid 54-page book catches fire courtesy of Patti Smith guitarist and veteran journalist Lenny Kaye's 5000-word essay on the spectacle, accompanied by illuminating photos, newspaper article reprints, and interview transcripts.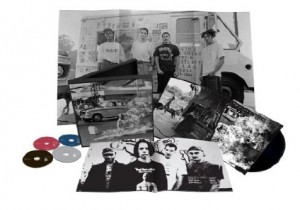 Rage Against the Machine
Rage Against the Machine: XX
Sony Legacy, 2 CDs/2 DVDs/ 1 LP
$120
"Are these guys any good?" audibly mutter passersby, wondering whether or not the then-unknown band playing on a college campus is worth their time. Captured by a single camera, Rage Against the Machine's first public performance in October 1991 stands out not for winning over converts but because of how locked-in the band already sounds. Playing most of the songs that landed on its self-titled debut, extolled for its 20th anniversary in this multi-format box set in which the aforementioned event is presented on DVD, the quartet attacks with uncommon focus and preparation, altering little between its time honing the material on small stages and hitting the studio months later. The group's widely circulated demos, sold at early shows and included here on a separate disc, point at the same conclusion.
Public Enemy leader Chuck D pens the set's liner notes and invokes RATM's unusual pedigree and fortitude, too. Aside from the evolution of guitarist Tom Morello's solos, few of the band's blueprints undergo considerable modifications on the debut. The upshot of such an exacting work ethic translates via the foursome's combustible onstage performances, which take the vigorous agitprop to volatile levels surpassing those heard on the superbly recorded album. Compiled on two DVDs, and comprising an entire concert (June 2010 in London) as well as clips plucked from an assortment of career-spanning shows, live takes of call-to-arms anthems such as "Killing in the Name," "Freedom," and "Bulls on Parade" burst with powerhouse dynamics, bulldozing power, and animated passion.
The hypocrisies of multimillionaires urging rebellion via sloganeering lyrics notwithstanding, what counts is the incendiary music—a conflagration of metal, rock, punk, and hip-hop sent up with a cutthroat aggressiveness meant to tear down the corporate structures and oppressive regimes they rail against. The only reservations? Much of the content is previously released or readily available on Internet bootlegs. One also wishes the DVDs were Blu-rays, and the 40-page book more exhaustive.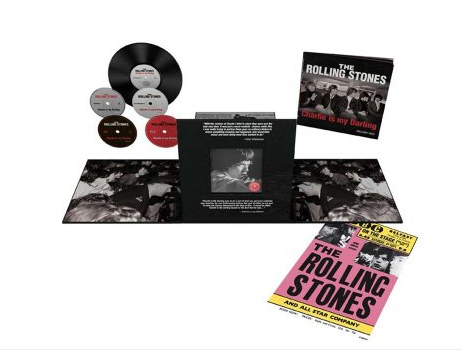 Rolling Stones
Charlie Is My Darling: Ireland 1965
ABKCO, 2 CDs/1 Blu-ray/1 DVD/2 LPs
$100
Stories surrounding the pandemonium at mid-1960s Rolling Stones shows are legion. Tales of fainting girls, brawling boys, and all-around screaming and shoving mayhem inform the band's mystique. It's easy to believe the recollections are exaggerated for the sake of legend, yet as confirmed by this official albeit never-before-released film, the hysteria often spilled onstage and forced the band to quit before the shows finished.
Shot just weeks after "(I Can't Get No) Satisfaction reached number one, Charlie Is My Darling: Ireland 1965 is expanded from its original 35-minute length to a 65-minute peer into the lives of the Stones as they travel around Ireland, gather backstage, and cavort between concerts. Watching Mick Jagger and Keith Richards developing the song "Sitting on a Fence" while lounging in a motel room borders on the surreal. As does the duo's brief, playful, gently ribbing versions of Beatles songs, early pop standards, and Elvis numbers. Reflecting a deeper seriousness and raw explosiveness, live footage of tunes such as "The Last Time" and the group's cover of Chuck Berry's "Around and Around" crackle with tangible energy. The first-ever live rendition of "(I Can't Get No) Satisfaction"? It's here, too.
The film makes evident the materialization of a burgeoning countercultural movement and changing of the guard, and not just because of its portrayal of the amped-up performances (and invaluable shots of the manic crowds). Jagger's prescient interview responses, which include spot-on observations on American youth and pop songwriting up until the mid-1950s, prove equally revealing. Every member is interviewed; so, too, are ecstatic fans, and a priest that nearly lost his job after he was spotted at a concert.
Expanded with an array of goodies, the movie is presented in three restored versions on both DVD and Blu-ray. Two CDs—one a soundtrack, the other a captivating collection of 13 live tracks recorded during the 1965 tour (a program duplicated on the LP)—and a 42-page hardcover book fill the savvy package.
Paul Simon
Graceland: 25th Anniversary Edition
Sony Legacy, 2 CDs/ 2 DVDs
$120
Since its 1986 release, Paul Simon's Graceland has led a double life. While other crossover albums preceded it, the record ignited interest in "world music" and turned the vague catchphrase into a trendy subgenre. Yet Simon's controversial methods—he circumvented a U.N. cultural boycott against South Africa, ignored the advise of experts, and recorded a majority of the songs in the country with South African musicians—have always tarnished the effort's accomplishments, which include two major Grammy Awards and inclusion in the United States National Recording Registry.
Joe Berlinger's Under African Skies documentary, the grand prize amidst the well-appointed crackerjack box that is Graceland: 25th Anniversary Edition, confronts such issues and tries to put them to rest. Peter Gabriel, David Byrne, Paul McCartney, and Quincy Jones are among recognizable figures volunteering recollections and opinions; Simon's return to the country some 25 years later for a reunion concert performed by the Graceland band provides a corollary backdrop. Anti-apartheid activists and leaders speaking about the extreme situations, divided reactions, and inherent contradictions regarding the record suggest the tension—and Simon's somewhat selfish motives—may never be resolved. Which, Simon maintains, is why the music's ends justifies the means.
Represented here on a superbly remastered CD along with a separate volume of bonus tracks, Graceland remains undeniably fresh. The exhilarating collision of contrasting harmonies and burbling, dance-inviting grooves engenders a joyousness, optimism, and transcendence intended to defeat the evils occurring in the cloistered environment in which the music was made. A second DVD contains the film The African Concert, the visual register of an event blending Graceland songs with traditional South African tunes. Seen amidst ambassadors like Hugh Masekela, Miriam Makeba, and Ladysmith Black Mambazo, Simon is a mere mortal.
Sony Legacy spares no expense in the packaging. Teeming with textured paper and cloth, and loaded with pertinent information and library-quality books, Graceland: 25th Anniversary Edition is exquisite. Analog fanatics will want to supplement it with the reference-quality LP.
Smashing Pumpkins
Mellon Collie and the Infinite Sadness
EMI, 5 CDs/ 1 DVD
$135
Spearheaded by bandleader and lone remaining original member Billy Corgan, the Smashing Pumpkins are quietly assembling one of the most encyclopedic, immersive reissue projects in history. Following up last year's excellent Gish and Siamese Dream sets, and this summer's spectacular edition of Pisces Iscariot, the deluxe version of Mellon Collie and the Infinite Sadness bends minds in many of the same ways the music did upon release in 1995—back when practically everyone (including the band's label) but ardent fans scoffed at the notion of the group issuing a double album, let alone one worthwhile. Many believed Corgan's ego had veered out of control.
Replete with the original record remastered and three CDs stuffed with dozens of previously unreleased tracks, this museum-level piece arrives in a magnetically sealed package adorned with beautiful, embossed cover art that extends the record's Georges Melies-inspired visual concepts. It all evokes adventure, fantasy, and exploration—just like the terrifically ambitious and fearlessly expansive music, which sounds even more impressive and vibrant today than it did nearly 20 years ago. The unburied archival treasures help place the extravagance, massiveness, and extremities of the finalized studio songs in context, and also reveal Corgan held back even more ideas, alterative arrangements, and tunes. The amount of material isn't what stuns; the across-the-board quality and imagination do, however—and do so consistently.
Akin to finding a curiosity-sparking heirloom dating from the early 1900s, or discovering for the first time the otherworldly odysseys inherent in a leather-bound volume of classic fiction, the outer box and one of the two inclusive books overflow with illustrations of angels, moons, exotic landscapes, and inventive animal characters that encourage further investigation. A second, expertly printed book contains lyrics. Corgan pens track-by-track liner notes, and a DVD documents a 1996 London concert as well as four extra performances. A velvet-lined gatefold disc holder and decoupage kit cap off 2012's best overall box set.